The Surprising Way Colin Jost Stole Scarlett Johansson's Big Award Show Moment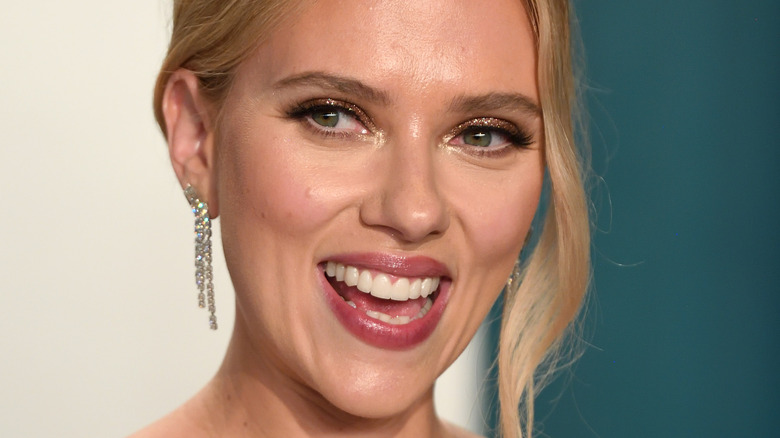 Karwai Tang/Getty Images
Actor Scarlett Johansson received a big recognition at the MTV Movie & TV Awards this Sunday, but it didn't go quite the way the audience anticipated. As reported by People, Johansson accepted the Generation Award honor, which acknowledged her contributions to the TV and film industry over the course of her nearly three-decade career. Past winners include Dwayne Johnson and Chris Pratt (via Indie Wire and MTV News).
The "Black Widow" star's acceptance speech didn't seem like anything out of the ordinary at first. "I realize what an absolute gift it is to be able to have the opportunity to do what I love," she said while holding her award in hand, per MTV. Johansson then announced that she was going to share a sneak peek of "Black Widow," but got interrupted. Colin Jost appeared in the background and dumped a bowl of green slime onto her head. Johansson shouted an expletive at Jost, who replied, "MTV you got slimed!"
"That's Nickelodeon!" she shot back. While some Twitter users thought that the staging of the joke was too obvious, most viewers loved the comedic relief. "What a funny bit!" one user wrote, while another added, "Scarlett and Colin are a perfect match together."
This isn't the first time Scarlett Johansson was pranked, and Colin Jost was involved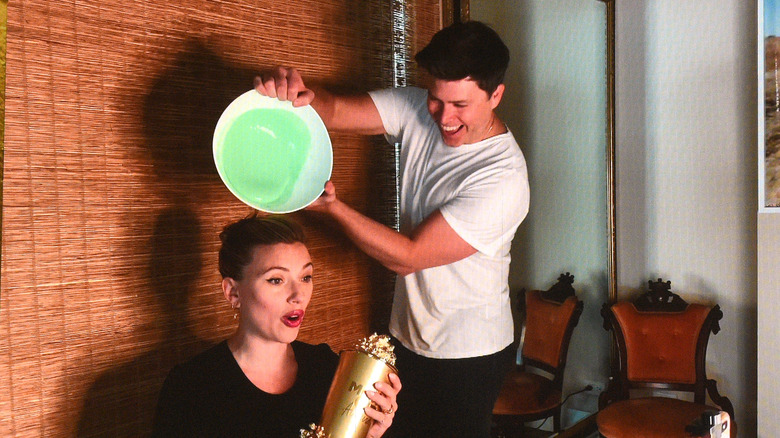 Kevin Mazur/2021 Mtv Movie And Tv Awards/Getty Images
Anyone who watches the "Weekend Update" segment of "SNL" knows that Colin Jost and Michael Che are not the type of people to let prank opportunities pass them by. Scarlett Johansson has even been pulled into the jokes simply because Jost is her husband.
During a segment of "Weekend Update" in 2020, for instance, Johansson got mentioned in the annual "Joke Swap." The segment involves Jost delivering jokes written by Che, and vice versa.
"It was announced that 'Creed' singer Scott Stapp will play Frank Sinatra in an upcoming movie," Jost began. "But the good news is Sammie Davis, Jr. will be played by Scarlett Johansson" (per Indie Wire). For those who don't know, the joke referred to whitewashed casting, and the criticism Johansson has received in the past for playing characters that were not meant to be white.
In another famous prank, Che took it upon himself to give Jost and Johansson a birthday surprise in 2018. Che sent a clown to the couple's intimate birthday dinner, per Refinery29. Fortunately, Jost and Johansson took it in stride, and sent Che picture of themselves at dinner wearing balloon party hats. It seems that Johansson may have signed herself up for a lifetime of pranks.