The Best Pink Hair Colors For Your Skin Tone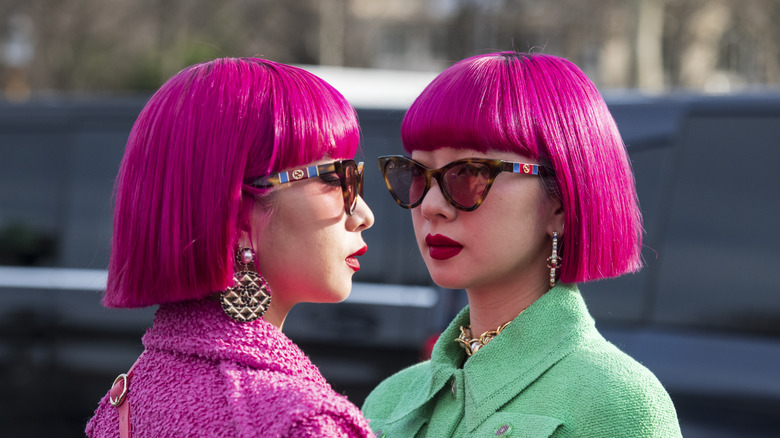 Kirstin Sinclair/Getty Images
If you like wearing pink everyday and not just on Wednesdays, then you might be interested in the latest hair color that is trending. Coined as "pandemic pink" by Forbes, pink-colored hair has been gaining traction as a mainstream trend over the past year. According to The Guardian, pink is a low-maintenance hair dye when compared to other colors and is an aesthetically pleasing color on social media platforms. Rachel Gibson, editor of the Instagram account called Hair Historian, told The Guardian, "It's a low-commitment color that fades or washes out when you get bored of it." Alex Brownsell, co-founder of hair company Bleach, told The Guardian, "In the past year, we've sold one pink hair product every 30 seconds, which is a 50% increase from the previous year."
Some like Columbia University neuropsychologist Sanam Hafeez, Ph.D., say there's a simple explanation regarding the passion for pink (via Teen Vogue). "Pink is the color of the 'universal' love of oneself and of others," said Hafeez. She added, "Very often, pink is thought to have a calming effect ... pink hair is a way of bringing out our softer side in a way that does not require everyday upkeep and is not expensive." 
If you're thinking of going pretty in pink, these are the best shades based on your skin tone.
Pink hair shades for light to medium skin tones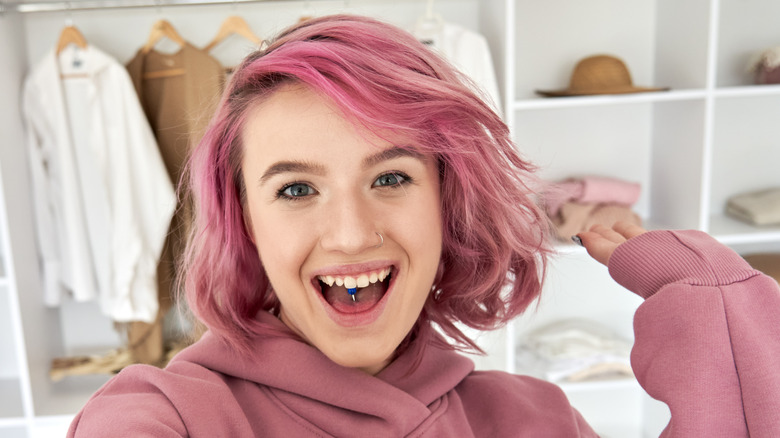 Shutterstock
When looking for the right shade of pink, it is important to consider your skin tone and undertone. That's why L'Oréal suggests those with fair skin and a cool undertone should try a lilac pink. And for those with fair skin and a warm undertone, the company suggests a peachy-pink or a more subtle version — rose blonde. A universally-flattering color for fair skin of any undertone is pastel pink, which won't clash with lighter skin and can add a rosy glow to your complexion. Millennial pink, which is a soft rose, and the peachier version, rose gold, are options that will complement a medium, golden skin tone.
Christel Lundqvist, founder of STIL salon, additionally recommends rose gold for fair skin with olive undertones (via Popsugar). Lundqvist, spoke about medium skin tones and said, "This complexion can take a more saturated color. A slightly more vibrant pink, like rose, looks beautiful." People with medium skin and a cooler undertone can try bubblegum pink, which is a blue-based mid-tone pink (via L'Oréal). 
For those with fair skin who want to stand out with a vibrant shade of pink, you can try a raspberry pink — a reddish, bright pink. And if you are looking for a bold color that works well on medium-toned skin, L'Oréal also suggests hot pink. But if you are looking for something more subtle, dusty rose is a trendy mauve color that makes a statement without being overbearing.
Pink hair shades for tan to deep skin tones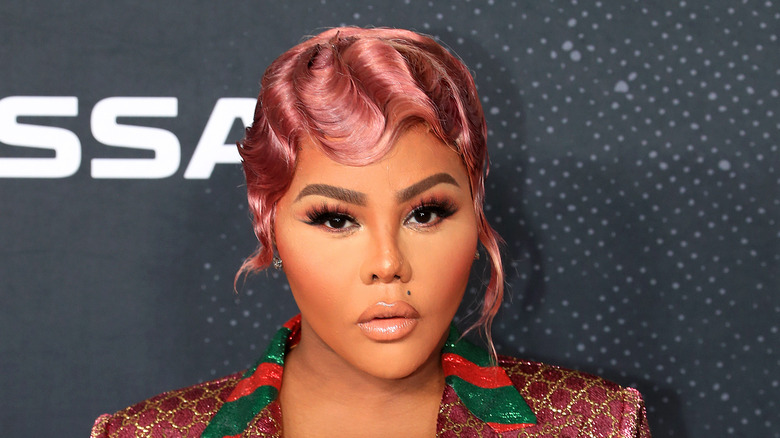 Carmen Mandato/Getty Images
"The nice thing about pink is there's just so many options that work for every single ethnicity," celebrity hair colorist Anna Friedman told Teen Vogue. There's plenty of pink shades that will complement tan to deeper skin tones. Blush, which is a darker version of dusty rose, gives a sultry siren look for those with tan to deep skin (via L'Oréal). Another more peachy option that would suit darker skin with warmer undertones is copper-pink. This color has orange undertones in the pink base.
A universally-flattering bold color for those with tan to deep skin tones is dark pink. Dark pink can also be tailored to be more cool-toned or warm-toned to correspond with your specific undertone. For example, fruit punch, a vibrant reddish-pink can really complement tan to deep skin tones with warmer undertones, and may just leave your Instagram followers thirsty. On the other hand, fuchsia and the darker version, magenta, are both purple-based pinks that provide an eye-catching contrast to a darker skin tone with cooler undertones.
"Pink is a very joyful, positive color, which is frankly what we all need," Gibson told The Guardian. So no matter what shade of pink you choose, it's bound to be fool-proof.