Why Aldi's Cookies And Cream Dessert Bars Have People Buzzing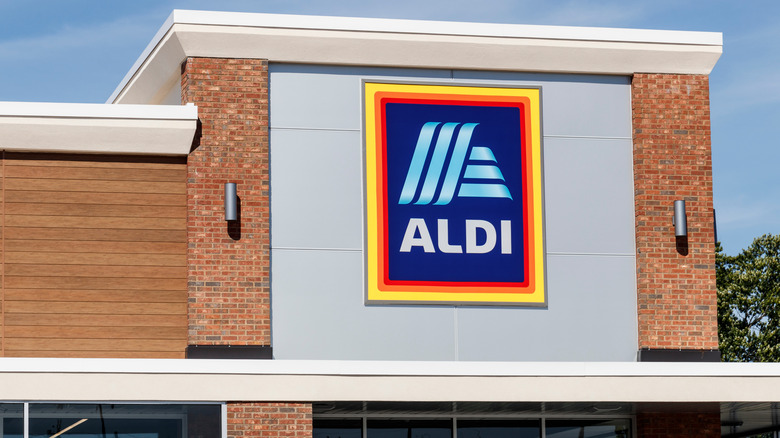 Shutterstock
Aldi never fails to impress, from surprisingly low prices to aisles of intriguingly miscellaneous items. The budget grocery store is also well-known for their delicious dessert options, both as pastries offered in-store, as well as recipes for seasonal and year-round goodies posted on their website. As of late, Aldi has begun offering a trilogy of intriguing Cheesecake Bites by the company Belmont whose flavors, according to Delish, include New York-style, strawberry swirl, and turtle. These decadent delights are not only bite sized and affordable, but they are also stored in the freezer, making them the perfect summertime snack.
Some avid Aldi shoppers have started their own social media accounts that specifically feature the best and most delicious deals the popular grocery chain offers. Instagram user @theamazingaldi deserves a standing ovation, because the supermarket fan page is responsible for discovering the latest and greatest addition to the Belmont dessert family, and likely your newest obsession: Cookies and Cream Dessert Bars.
Aldi's new dessert bar proves that the cookies and cream flavor is always a favorite
These mouth-watering Belmont Cookies and Cream Dessert Bars can be found near the popular Cheesecake Bites by the same maker in the frozen foods section. Advertised as "individual decadent squares" that simply require "thawing and serving," they are already flying off store shelves. And it's no surprise, because the cookies and cream flavor has seemingly never failed as being one of the most popular. According to The Washington Post, this "black and white, yin and yang" throwback to childhood cravings, is always in the top spot for favorite ice cream flavors. That is, as the outlet explains, "when you eliminate boring old vanilla and chocolate."
In the comment section of @theamazingaldi's Instagram post featuring the dessert bar, fans are hyped to get their hands on these new treats. One user gushed, "These are so freaking good," while another wrote that while they're delicious, you can only eat one at a time because they're "very rich and sweet."
The 10 ounce boxes go for $4.49 each and hold two individual dessert squares per box (via Aldi).