Major News For Taylor Swift And Olivia Rodrigo Fans
Olivia Rodrigo is Disney's latest breakout star, and she's kindling quite the relationship with Taylor Swift. She's talked openly about Swift inspiring her songwriting, and fans even thought Rodrigo's internationally successful debut single "deja vu" sounded like Swift's song "Cruel Summer" from her "Lover" album (via PopSugar). Swift knew of Rodrigo as well, and the two singers finally met at the 2021 BRIT Awards. Rodrigo's debut album, "Sour," releases on May 21, 2021, and fans have discovered a connection to Swift on the album. 
Swift doesn't feature on the album, but she does receive a writing credit along with Jack Antonoff on one track (via Rolling Stone). Rolling Stone reported that the track, "1 Step Forward, 3 Steps Back" interpolates Swift's "New Year's Day" from her album "Reputation." While Swift didn't specifically work on Rodrigo's album, she and Antonoff — who wrote "New Year's Day" — receive these writing credits because of the interpolation. Moreover, Rolling Stone noted that Rodrigo was inspired by Swift when writing "deja vu," meaning that fans who felt like they could hear a connection between the two songs were correct.
Here are even more Easter eggs about Taylor Swift's connection to Olivia Rodrigo's album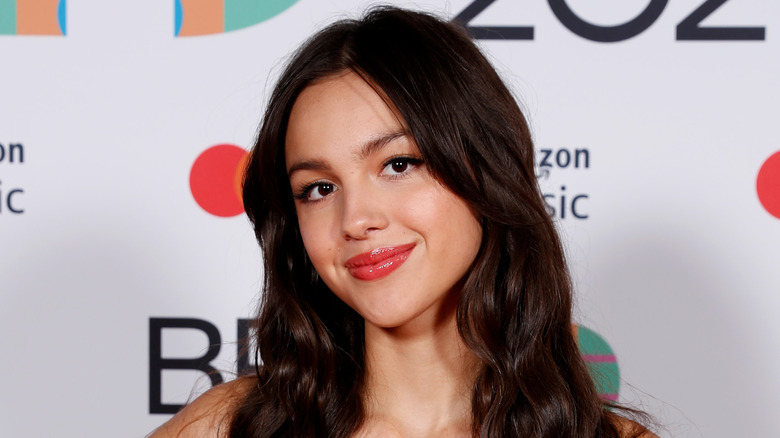 Jmenternational/Getty Images
In an interview with Nylon, Olivia Rodrigo expressed her love for Taylor Swift once more. When the interviewer expressed admiration for Swift's song, "All Too Well," Rodrigo responded with equal praise, saying that she loves looking at Swift's CD books. Of Swift's specific songwriting and lyrics, she said, "But at the end of the day, I'm like, 'No. She wrote that song about me going through my breakup. I relate to that, and that's impactful to me.'" It's this style of songwriting that Rodrigo aims for in her own music. In the interview, the budding singer also expressed appreciation for music's ability to connect people, saying it does so more than books.
Fans who have listened to "1 Step Forward, 3 Steps Back" have been quick to note the choice of numbers in its title, according to PopSugar. It's widely known that Swift's favorite number is 13, and fans can only assume it's not a coincidence that Rodrigo chose the numbers 1 and 3 for the song title that just so happens to interpolate a Swift song. Furthermore, eagle-eyed fans noticed another coincidence with the number 13. The album's release date (5.21.2021), adds up to 13 if you add each individual number together.
Rodrigo proves that dreams really can be true, and who knows? Maybe a song recorded by the two singers will grace fans' ears in the future. For now, though, "Sour" hits streaming services on Friday, May 21, 2021.