Why The Internet Can't Stop Talking About Lil Nas X's SNL Performance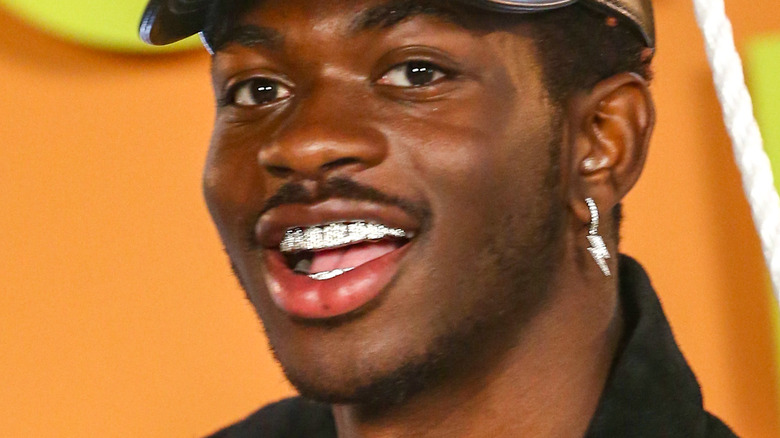 Tommaso Boddi/Getty Images
Lil Nas X has come to be known for his scandalous performances, but his appearance on "Saturday Night Live" this weekend just might take the cake. During the episode hosted by actress Anya Taylor-Joy, the 22-year-old was in the midst of recreating the music video for his song "Montero (Call Me By Your Name)" when he experienced an unfortunate wardrobe malfunction. Of course, the incident sparked a frenzy of jokes on social media, with Lil Nas X joining in on the fun.
Earlier this year, the "Montero" music video received a great deal of backlash from conservative groups who claimed it was a dangerous influence on young fans. In the controversial video, Lil Nas X is seen pole dancing in hell and even giving the devil a lap dance — which, according to the singer, was intended to encourage the queer community to openly be who they are. "I know we promised to never be 'that' type of gay person, I know we promised to die with the secret, but this will open doors for many other queer people to simply exist," he said at the time of the video's release (via The Guardian). 
He continued: "You see this is very scary for me, people will be angry, they will say I'm pushing an agenda. But the truth is, I am. The agenda to make people stay the f*** out of other people's lives and stop dictating who they should be."
The singer experienced a major wardrobe malfunction
Rapper Lil Nas X didn't shy away from his usual jaw-dropping ways during his "SNL" appearance, but the most controversial part of the show seemed to be a total accident. While performing his track "Montero (Call Me By Your Name)," the singer began dancing on a stripper pole surrounded by leather-clad dancers — right before ripping his own leather pants near his crotch. In the clip, you can clearly see Lil Nas X realize what just happened, but he carries on with the performance like a total pro.
After the show, the singer took to Twitter to have a good laugh at the situation. "NOT MY PANTS RIPPED ON LIVE ON TV," he tweeted, then followed it up with: "OMFG NO." Lil Nas X also joked: "I wanted to do my pole routine so bad this what I get lmaoo."
Fans commended him for handling the incident so well, while also poking fun at the situation. "This is also the same face you make when you hear your mom pull up after she told you to do your chores while she was gone," one Twitter user shared along with a screen grab of the singer's shocked face during his moment of panic.
Prior to his "SNL" performance, Lil Nas X told People that he felt "amazing", saying: "I'm going to go out there and just murder it." Some might say he did just that.