The Truth About Chris Pratt's Relationship With Aubrey Plaza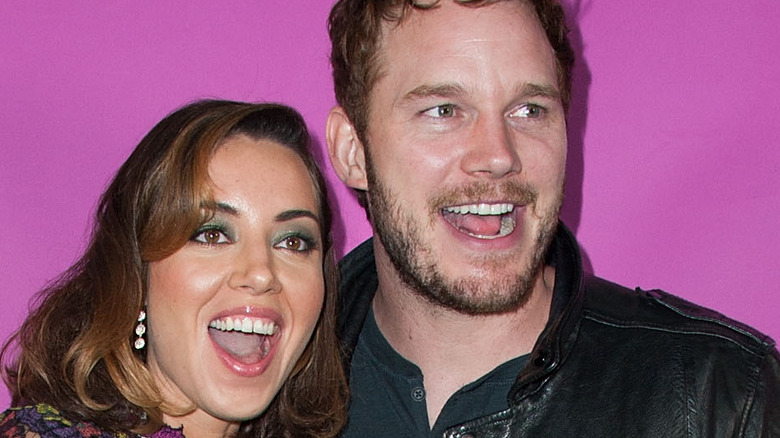 Valerie Macon/Getty Images
Chris Pratt may now be known across the globe as one of Marvel's leading men, but the actor initially rose to fame on NBC's mockumentary "Parks and Recreation." While he didn't appear in every episode, Pratt's role as the lovable dork Andy Dwyer is one of the actor's most memorable.
Eventually rising through the ranks to becoming Leslie Knope's assistant at Pawnee's Parks and Recreation department, Andy became one of the show's most beloved characters — especially when it came to his relationship with the sarcastic April Ludgate, played by Aubrey Plaza. The two were the epitome of opposites attract, and were one of the show's strongest couples alongside Amy Poehler and Adam Scott as Leslie and Ben.
But how has the relationship between Chris Pratt and Aubrey Plaza fared off screen? Have the two actors remained in touch since the show came to an end in 2015, and do they get along as well as their characters?
Aubrey says Chris is still 'the same old lovable golden retriever' he was on Parks and Recreation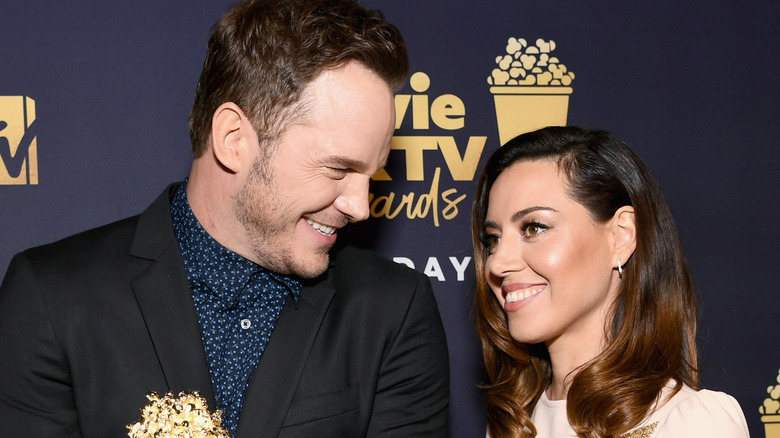 Emma Mcintyre/vmn18/Getty Images
As "Parks and Rec" came to an end, Aubrey Plaza told Nylon, "Gonna miss Chris Pratt in my life because he's my TV husband, and sometimes I forget that he's not my real husband." Despite not seeing each other as much due to different projects, Pratt and Plaza are still friends. "He's my Andy," she said during a Wired Autocomplete episode (via YouTube).
And when asked about Chris Pratt's marriage to Katherine Schwarzenegger in 2019, Plaza said that because Pratt and Andy's personalities are so similar, the actor would be an amazing partner in real life, too. "So, my bet is that he's gonna be the most fun husband ever, and I think that girl is a lucky, lucky, lucky gal," she told People. "Yeah, it's a jackpot." She also told Playboy (via Bustle) that he's still "the same old lovable golden retriever of a man I had to hug and touch and kiss a lot," so there's that too.
While Pratt and Plaza haven't starred opposite each other in any other projects, they did reunite in 2018 when she presented him with the MTV Generation Award alongside Bryce Dallas Howard (via YouTube). And seeing as how Plaza plays a role in the Marvel series "Legion" (via the Hollywood Reporter), the two could appear in some sort of crossover in the near future. It's a long shot, sure, but not impossible.