This Is How Much Aubrey Plaza Is Actually Worth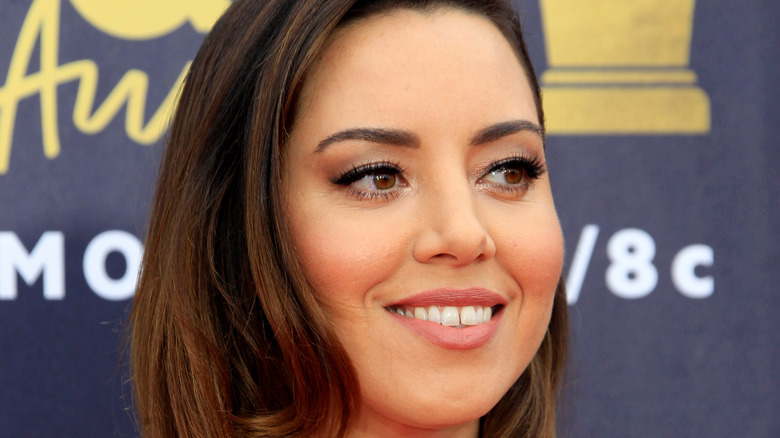 Shutterstock
Aubrey Plaza rose to fame as April Ludgate in NBC's "Parks and Recreation," but the comedian and actor has been working in Hollywood for years. Most recently, she starred in Hulu's holiday movie "Happiest Season" alongside Kristen Stewart (via IMDb). It was also just announced that Plaza is set to star in an upcoming indie comedy, "Spin Me Round," with Alison Brie, Molly Shannon, and Lil Rel Howery, according to Deadline.
"Spin Me Round" is being directed and was co-written by Plaza's husband Jeff Baena. Plaza shared the news that the two had tied the knot in a post on her Instagram. According to People, the pair have been together since 2011, and Plaza has even starred in a few of Baena's films like "Life After Beth" and "The Little Hours." During quarantine the couple worked together on Showtime's experimental series "Cinema Toast," and Plaza makes her directorial debut in one of the episodes (via Deadline). According to Slash Film, the series uses old Hollywood movies and edits them into new stories with voice dubbing from actors like Alison Brie and Plaza's "Parks and Recreation" co-star Nick Offerman.
Hard work has paid off for Aubrey Plaza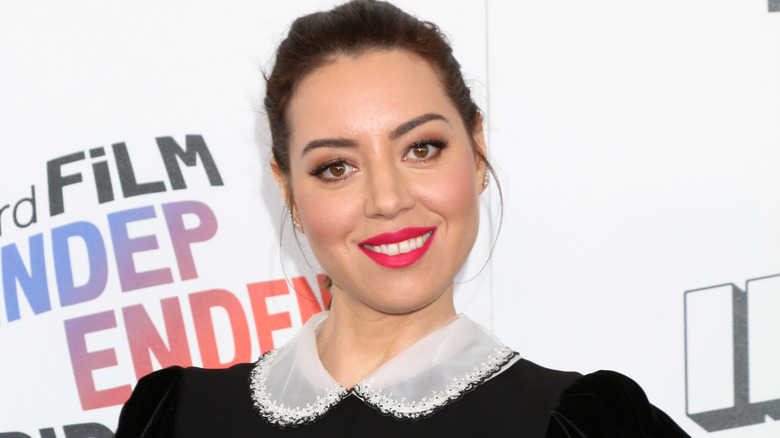 Shutterstock
Aubrey Plaza is a testament to the fact that hard work pays off. She has been consistently working since her time as a student at New York University, where she also studied improv and sketch comedy at the Upright Citizens Brigade Theater (via Huffington Post). She even continued to make movies in between seasons of the Emmy-nominated "Parks and Recreation," appearing in films like "Scott Pilgrim vs. The World," "The To Do List," and "Safety Not Guaranteed." After "Parks and Recreation" ended in 2015, Plaza appeared in shows like "Legion," "Criminal Minds," and "Castle." 
As far as the future goes, Plaza has plenty of projects lined up as well. It was announced by Variety that she would be joining Jason Statham for an upcoming thriller from director Guy Ritchie, and Plaza is also set to star in FX's animated comedy show "Little Demon" with Danny and Lucy DeVito (via Deadline). 
Plaza's tenacity and work ethic have led to an estimated net worth of $6 million, according to Celebrity Net Worth. And the way her career is going, it seems that $6 million is just the start.