The Ancient Therapy Meghan Markle Is Reportedly Using To Overcome Emotional Pain
Shutterstock
Mental health is a vitally important topic of conversation, and in honor of May being Mental Health Awareness month, it's currently a huge hot topic. The world was turned upside down when Meghan Markle and Prince Harry opened up to Oprah on national television to discuss the alleged treatment they had received within the royal family. But people had no idea that in addition to family controversies being revealed, Markle would unload a truth bomb regarding her mental health. 
Indeed, according to a visibly shaken Markle during the dramatic interview, when things were at their worst, she was highly depressed and even had thoughts of suicide (via The Tribune). In response, she has become a powerful proponent of speaking about mental health, saying, "I share this because there's so many people who are afraid to voice that they need help. And I know personally how hard it is when your voice is silenced," per the Lehigh Center.
Meghan Markle hopes to heal from generational pain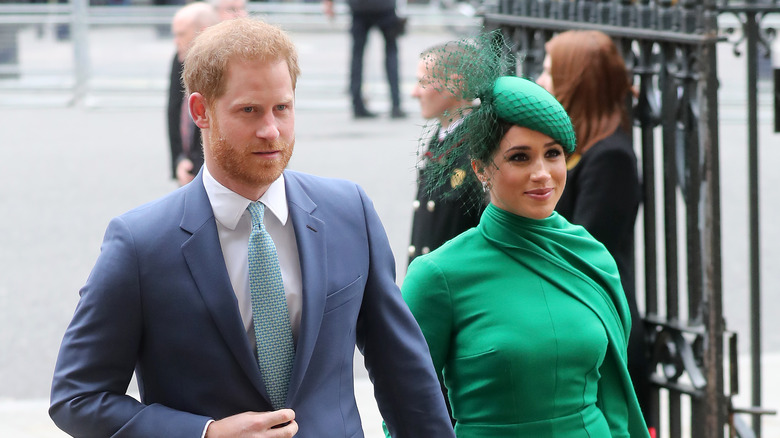 Chris Jackson/Getty Images
But it wasn't just Meghan Markle who was suffering emotionally and mentally as a member of the royal family. Prince Harry was having a tough time, too. According to a source with close ties to the Duke and Duchess of Sussex, the couple have been taking up new forms of healing to improve their mental health. According to the Daily Mail, Markle has taken it upon herself to help her husband "break the cycle" of "genetic pain and suffering" that has come from alleged toxicity within his family. Through a practice called "ancestral healing," which Markle reportedly introduced to Harry, the goal is to become "spiritually grounded" through a ritual that "empowers you to connect, repair and nurture relationships with your own wise and loving ancestors," per Root Wisdom.
This form of healing would be beneficial to both Prince Harry and Markle, as, according to the Daily Mail, "Meghan said both she and Harry come from a long lineage of pain and suffering, generations of genetic baggage and that it's now up to them to break the cycle once and for all." According to sources, Markle learned this ancient tradition as well as "generational trauma" from her mother, who took her to "weekly services at Agapé International and credits its founder Michael Beckwith for teaching her about spirituality."

If you or someone you know is struggling with mental health, please contact the Crisis Text Line by texting HOME to 741741, call the National Alliance on Mental Illness helpline at 1-800-950-NAMI (6264), or visit the National Institute of Mental Health website.