The Truth About Kanye West And Irina Shayk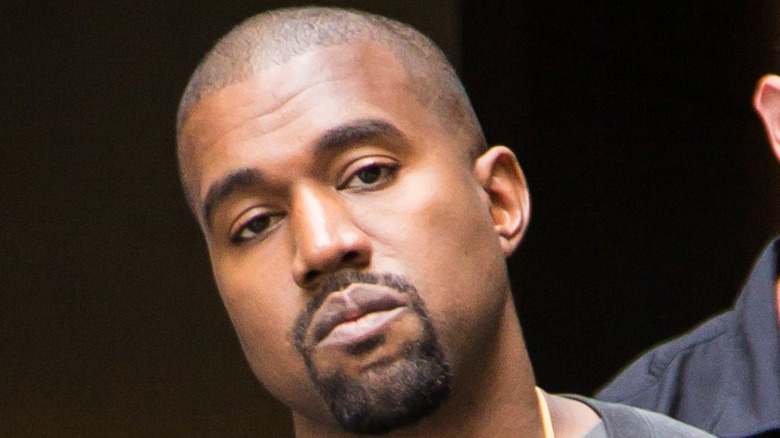 Shutterstock
Kanye West has kept a low profile since he and Kim Kardashian announced they were splitting up after nearly seven years of marriage. Kardashian filed for divorce in February, and West has requested joint legal and physical custody of their four children, North, Saint, Chicago, and Psalm. Despite the split, though, the couple has reportedly managed to keep things civil. Kardashian, of course, is no novice when it comes to handling public separations, having gone through two high-profile divorces before her split from West.
"Kim and Kanye are getting along," a source tells People. "They have both stayed true to their commitment to make the best situation for the kids. Kim is very happy that they have managed to keep things calm. She thinks Kanye is a good dad. She wants him to be able to spend as much time with the kids as he wants." On a March 2021 episode of "KUWTK," Kardashian herself opened up about trying to separate herself from the buzz of internet gossip in the wake of her separation. She also spoke of wanting to continue to be supportive to her ex-husband (via Independent).
Although Kardashian has been spending time out on the town with friends, those closest to her say the reality star isn't ready to date. "She's in a good place and she's happy. She's letting the past go and throwing herself into work and the kids," a source told Hollywood Life. However, it looks like West might be looking to move on with supermodel — and Bradley Cooper's ex — Irina Shayk.
Are West and Shayk really dating?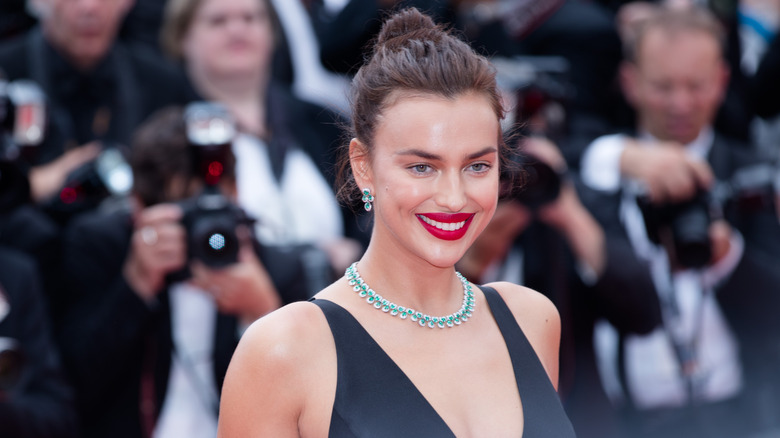 Shutterstock
After his split with Kim Kardashian, Kanye West might be moving on with Irina Shayk. The Russian-born supermodel is the ex-girlfriend of Bradley Cooper, and the two share a daughter, Lea. The actor-model couple, who were together for four years, never tied the knot. They split formally in 2019, amid rumors that Shayk  "wanted more from Bradley in every way," and had hoped to get married after giving birth to their daugther (via ET). 
Now gossip site DeuxMoi claims that West and Shayk are "secretly dating," or at the very least that there's "perhaps some interest there" (per Daily Mail). In any case, if the two are feeling things out, it's early days. And Shayk's priority has always been her four-year-old daughter. "Sometimes, when I say to myself, 'Wow, I'm a single mom,' it can sound a little scary," she told Interview. "But it's doable, and I think women can really handle a lot of things. I've never had a male figure who came into my life and took care of me. Never."
Meanwhile, The Sun reports that Kim Kardashian isn't letting herself get worked up about the rumors that Kanye's moving on. "Kim doesn't buy into the Irina rumors at all," an insider allegedly told the news source. "To her, it's some attention-seeking no one who tried to piggyback some clout off their wedding anniversary." And, even if the rumors do turn out to be true, the insider says, "I doubt she'll even be upset at this point."
Kanye West and Irina Shayk have a history
Is it even plausible that Kanye West and Irina Shayk are secretly dating? The two have actually known each other for more than a decade, with Shayk appearing as an angel in West's 2010 music video for "Power." After, Shayk told SB Nation that "It was moving art." She went on to confirm that she enjoyed listening to Kanye's music and that "he's a really great person to go with being a great artist." Also in 2010, Kanye West name-dropped Irina Shayk in his track "Christian Dior Denim Flow." The particular verse reads "I'm wilding, I'm on a thousand, I wanna see Irina Shayk next to Doutzen" (via Genius). It's not exactly a love letter, but it just might be proof that Shayk was on West's mind. Not long after, Shayk collaborated with West again, walking the runway for the rapper's 2012 Fall/Winter fashion collection at Paris Fashion Week. It's unclear whether Shayk and West kept in contact, although it's not out of the question. 
Certainly, West has dated women who've previously modeled for him in the past. He was linked, for example, to Sessilee Lopez, whom he dated after she appeared in his 2008 music video "Flashing Lights," and to Selita Ebanks, after she appeared in his 2010 short film "Runaway" (via In Touch Weekly). For her part, in addition to Cooper and West, 35-year-old Shayk has been linked to soccer player Cristiano Ronaldo and art dealer Vito Schnabel (via CheatSheet).