The Skin Care Products You Shouldn't Use After The Ordinary Peeling Solution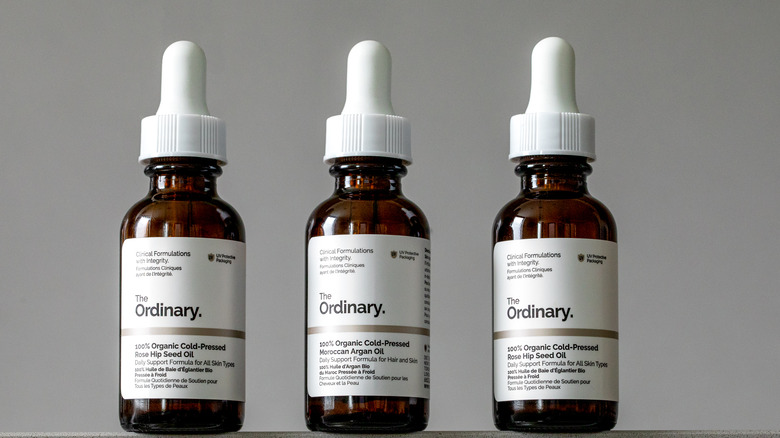 Shutterstock
The Ordinary has confidently asserted themselves onto the shelves of skincare professionals, newbies, the acne prone, the oily skin owners, and pretty much everyone in between. Their success seems to come from a rare combination of affordable products that generate noticeable improvements to the skin, combined with the use of incredibly effective ingredients.
But one of the most common criticisms of the company is that, while the products have effective results, many consumers struggle to understand exactly what the ingredients are, and what they do, specifically. Some people celebrate The Ordinary for putting the ingredient names right on the bottle, while others claim that it just confuses them. But with names such as "alpha arbutin" and "ascorbyl tetraisopalmitate," can you blame them for feeling confused? (via The Skincare Edit).
Indeed, the narrative of uncertainties surrounding these products explains why many are unsure of what products to use after applying The Ordinary's Peeling Solution, one of their most popular products by far (via Glamour).
Here's why The Ordinary Peeling Solution is so effective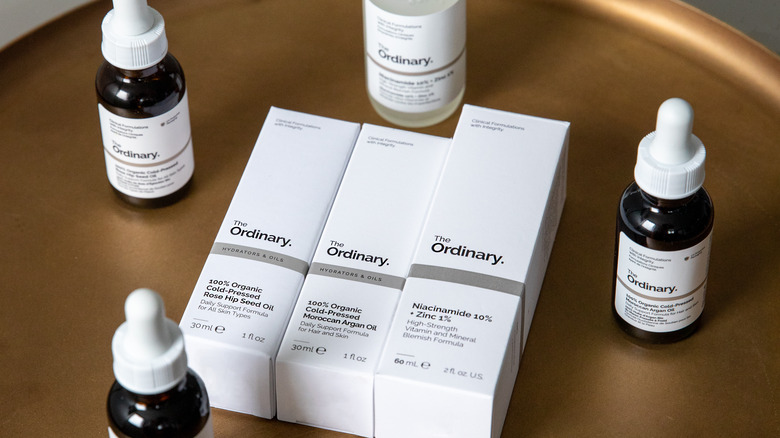 Shutterstock
According to Byrdie, The Ordinary's Peeling Solution – a $7 skincare product, might we add — is meant to clear, smooth, and brighten the skin by removing dead skin cells, hence the "peeling" properties. But it's not magic in this product that makes your skin glow, but a series of concentrated chemicals and carefully chosen ingredients. Its formula is a mix of "alpha and beta hydroxy acids" that exfoliate the skin and remove dirts and toxins. However, due to some of the acidic ingredients in the formula, some people experience severe burning and pain. If you can endure the pain, you'll have some pretty smooth skin in no time. But if the pain is too intense, it is recommended that you remove it immediately (via Beautiful With Brains).
Furthermore, it is also strongly recommended that you be mindful as to the products you put on your face before and after the use of the peeling solution, as it can have an effect on the efficacy of the product as well as the health of your skin.
You can experience irritation after using a chemical peel like the one from The Ordinary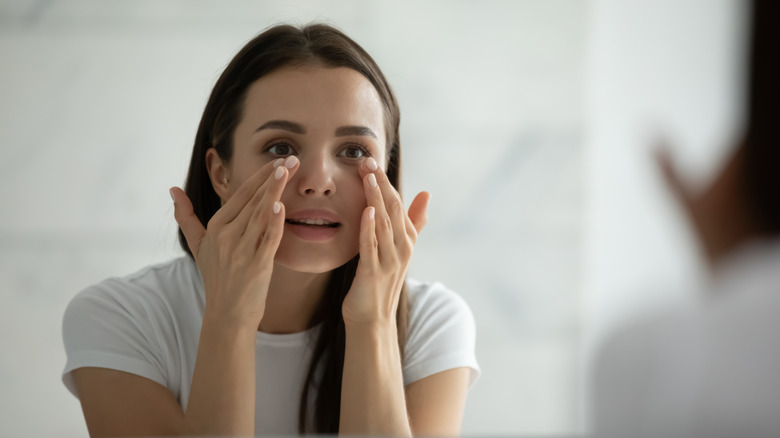 Shutterstock
First and foremost, according to Blush and Pearls, it is strongly discouraged to use the peeling solution if you have any sort of skin condition, such as a sunburn or severe acne. When you do finally apply the product, however, due to the pink/red saturation of it, you can expect your skin to have a leftover pinkish hue as a result of the product color as well as from minor irritation.
But perhaps the most important element of your skincare regime if you plan to use the peeling solution is what you put on your face immediately after using it. Skin experts suggest re-hydrating the skin after use, making sure you use only soothing, non-irritating products. Blush and Pearls specifically indicated not to use any sort of retinol or vitamin C, as they can be too harsh and irritating to the already sensitive post-peeled skin. Dermalogica added that you should try to avoid washcloths, scrubs, and cleansing brushes for up to 5 days after using a chemical peel, too. It is also recommended to avoid using products containing fragrances, alcohol, or menthol, as it can make skin irritation worse. 
All of this being said, no matter what, make sure to still put on your sunscreen as the final step of your skincare routine, peeling solution or not! Just opt for a more sensitive, chemical-free kind that will be more gentle to the skin.