Here's How Chrissy Teigen Just Landed One Company In Hot Water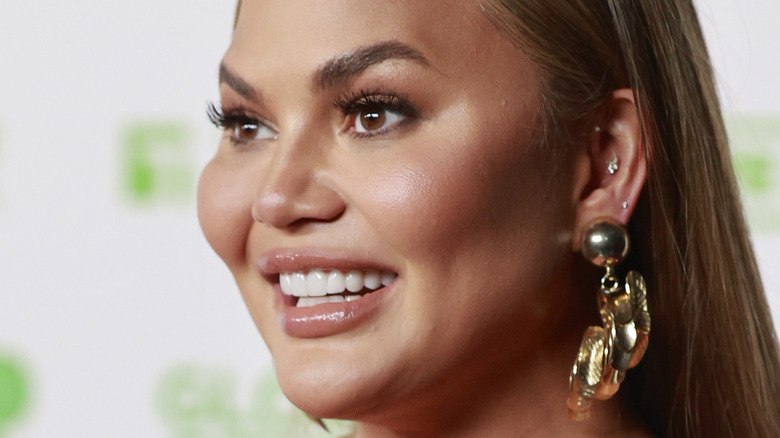 Emma Mcintyre/Getty Images
Chrissy Teigen is not in demand these days. After it was revealed she sent mean messages to Courtney Stodden, who gained national attention after marrying Doug Hutchinson, a 50-year-old actor, when they were just 16, and actress Lindsay Lohan, the cookbook author was unceremoniously dumped by several retailers hat carry her cookware line (via Daily Beast and Page Six).
While Target and Macy's distanced themselves from Teigen, one company stood by the embattled on-again-off-again Twitter enthusiast — VRBO. The vacation rental site premiered a commercial featuring Teigen and her husband John Legend during "The Voice" finale Monday night according to Page Six. The emotional spot, the premise of which is how families can now reunite following the pandemic, also shows the celebrity parents with their kids, Luna and Miles (via YouTube).
Social media users soon voiced their outrage that Teigen had been included in the ad, taking to Twitter and Instagram to share their angry feedback. As Page Six notes, apparently the comments got so heated, VRBO shut off the ability to comment on its YouTube page.
Twitter is not going easy on VRBO in light of its partnership with Chrissy Teigen
The fallout on Twitter following VRBO's commercial airing was swift. "My family and I use your service to list our property. We deserve better than you using @chrissyteigen as an ambassador. This issue negatively impacts our business. Please act now!" one person tweeted.
"Too bad the new @vrbo Ad has @chrissyteigen in it. Great way to brand yourself NOT," tweeted another non-fan of Teigen's, while another said, "And this relationship between @vrbo and @chrissyteigen is one reason why I'm glad we have @Airbnb. You need to rethink, VRBO!" Many other Twitter users stated they would no longer be renting out their properties via VRBO.
Many Twitter users further called for a boycott of VRBO until they dropped their partnership with Teigen.
Ironically, VRBO published the following tweet in late April, that read: "Vrbo is committed to diversity and inclusion in the travel space. So, we've been taking concrete actions, from establishing a policy banning hate from our marketplace to addressing problematic and limiting terms on our platform" (via Fox Business).