Inside Jane Krakowski's Relationship With Ellie Kemper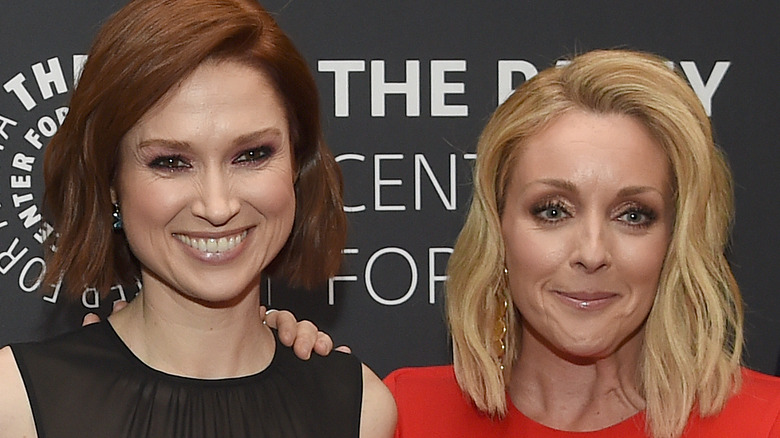 Dimitrios Kambouris/Getty Images
The Netflix original comedy "Unbreakable Kimmy Schmidt" took Netflix by storm when it first premiered in 2015 (via IMDb). The series was created by comedy legend Tina Fey and lead by "The Office" star Ellie Kemper. Kemper played a young woman who moves to New York City after spending 15 years in an underground bunker with a cult. Once Schmidt arrives in New York, she rents a room from a wannabe Broadway actor and takes up a job working as an assistant and nanny for socialite Jacqueline. The sitcom ran for four long seasons and won over the hearts of critics and audiences alike.
What helped make this series so successful was the chemistry the ensemble cast was able to craft from the very first episode. The relationship between Kemper's character Kimmy and her boss Jacqueline, played by "30 Rock's" Jane Krakowski is one of the most compelling parts of the show (via AV Club). Throughout the 51 episodes, the pair have great banter and are skilled at bouncing jokes off of one another. By the series finale, the unlikely friends grow to truly love and understand one another. Much like the deep connection that Jaqueline and Kimmy share, their real-life counterparts Krakowski and Kemper have an undying appreciation for each other.
Kemper and Krakowski clicked from the very start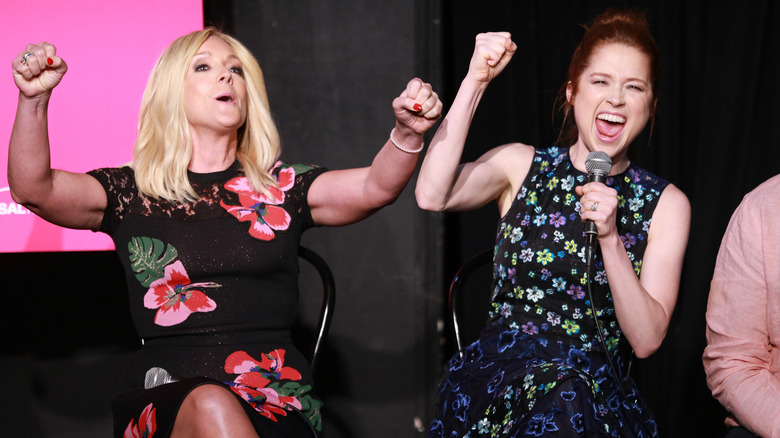 Rich Fury/Getty Images
In an interview with CBS, Jane Krakowski revealed the hilarious way she was introduced to her "Unbreakable Kimmy Schmidt" co-star. She told the publication, "I never met Ellie until we shot our first scene on 'Unbreakable Kimmy Schmidt' and our first scene — it's always the way it is — it was a bed scene. We had to spoon each other. They always do that! You're always doing a bed scene first." While their first encounter was a bit awkward, the pair had an immediate connection. Krakowski said that she immediately had great comedic banter with Ellie Kemper. The 52-year-old also added that she has great respect and adoration for Kemper and hopes to keep working with her in the future.
She said, "Whenever I get back together with Ellie, it feels like home, and I'm like, 'Yes, this was the timing and dynamic that got us here!' So it's always fun for me." Luckily the actress was able to work on a project outside of their hit series together, for a popular fast food joint. In 2018, Ellie Kemper and Jane Krakowski starred in a commercial for Drive-In restaurant Sonic (via People). In an interview with People, Kemper shared that she felt really lucky to have Krakowski by her side for the ad. She said, "It just feels really effortless with Jane all of the time and natural. Honestly, like I was hanging out at a drive-in with my friend." Though the pair has not reunited on the screen since wrapping "Unbreakable Kimmy Schmidt", its clear they would love to work together again as much as the fans want them to.