Hypoallergenic Hair Product Brands To Try If You Have Sensitive Skin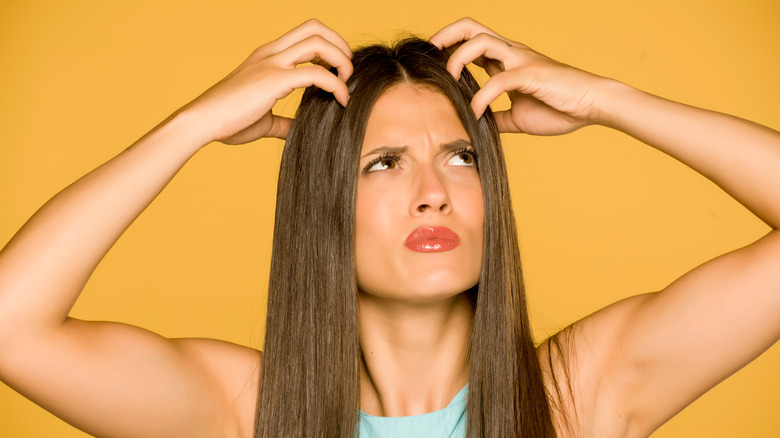 Shutterstock
We may receive a commission on purchases made from links.
If you have sensitive skin, it might feel like your freshly washed hair has the powers of an allergen-based King Midas: Everything it touches turns red and irritated. Unfortunately, the culprit ingredients in your shampoo or conditioner can be very difficult to identify. That's where hypoallergenic products come in.
But what even is a hypoallergenic shampoo or hairstyling product? Unfortunately, the term "hypoallergenic" is not regulated by the Food and Drug Administration, so different companies will create different standards, via the FDA. It's therefore important to read ingredient labels and learn which ingredients may be irritating your skin. That way, you'll know what to avoid.
Some of the most commonly irritating ingredients include fragrances, preservatives, artificial coloring, and sulfates, according to Love to Know. Fragrance is normally listed as "parfum" or "fragrance," but other irritating chemicals may be more difficult to identify. If you want to avoid preservatives, look out for ingredients that contain "methyl," "propyl," "butyl," and "ethyl" in their names.
Artificial coloring is often listed as the color name, followed by a number. For example, "yellow 6" is a common coloring ingredient, per Healthline. Sulfates typically appear in the form of sodium lauryl sulfate, via Hello Jupiter. However, it's important to note that some sulfates are far less irritating, such as sodium laureth sulfate.
Try out a variety of hypoallergenic hair brands to find the best products for you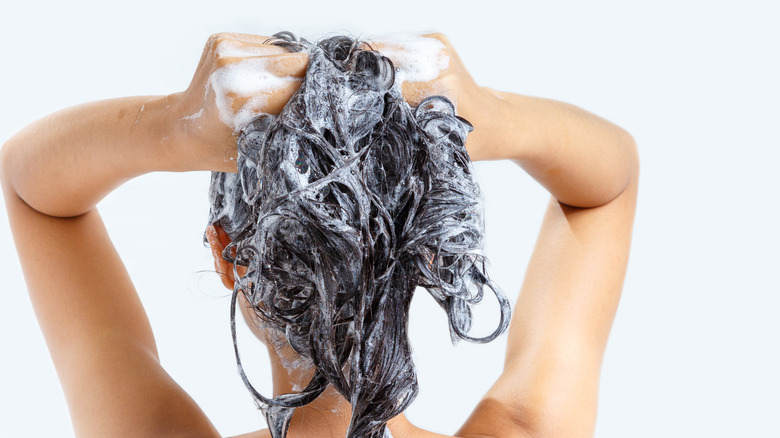 Shutterstock
Looking for the perfect, non-irritating shampoo? Fragrance-free products may be the best at reducing irritation. Some fragrance-free shampoos to try that are also free from harmful preservatives, artificial coloring, and harsh sulfates include DHS Clear Shampoo and Jason Shampoo, via MomJunction. The DHS shampoo is dermatologist-recommended and designed for those with seborrheic dermatitis, dandruff, hypersensitive skin, psoriasis, or eczema. The Jason shampoo uses aloe vera and other plant-based ingredients to soothe and gently clarify the scalp.
For a gentle, non-irritating cleanser, consider the Honest Company Purely Sensitive Conditioner or the Paula's Choice Smooth Finish Conditioner. The Honest Company conditioner is dermatologist-tested and gentle enough for babies. Plus, it comes in fragrance-free, sweet almond, lavender, and sweet orange vanilla versions. The Paula's Choice conditioner is a fragrance-free, hydrating formula that is also safe for color-treated hair.
If you need stylers as well, the No Nothing Very Sensitive Moisture Mist and the SEEN Curly Creme are both good options. The No Nothing mist works well for straight hair that needs detangling and not an excessive amount of moisture. The SEEN creme is designed for wavy or curly hair, and promises to tame frizz without clogging pores. Ultimately, trying out multiple different brands will help you determine which products are best for your skin. If you suspect you have an allergy, visit an allergist to help you pinpoint irritants.