Nikki Haley's Tweet Calling Out VP Kamala Harris Has The Internet Seeing Red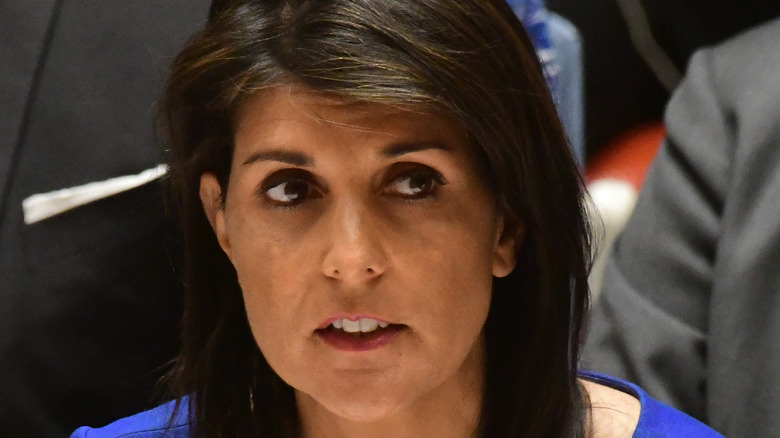 Shutterstock
There's a war of words unfolding on social media, which was triggered by VP Kamala Harris' post inviting everyone to "enjoy the long weekend" (via Twitter), and which was liked by more than 87,000 followers. One of social media user who criticized the well-intentioned greeting was former Trump Administration Ambassador to the United Nations, Nikki Haley, who retweeted Harris' message along with the comment "Unprofessional and unfit."
Haley's comment drew fire from those on social media; a social media user tweeted back, "No. Nikki Haley cherry-picked one tweet out of many this weekend. My dad gave his life for this country and he would have wanted us to celebrate and enjoy the freedom that we have. Nikki Haley would like to see us Under His Eye in a 'Handmaid's Tale' world" along with an image of Harris addressing the U.S. Naval Academy's graduation ceremony. 
Gun control lobbyist Shannon Watts also shared a screenshot of a 2020 tweet from Haley complaining about Popcorn Factory with the comment, "Nikki Haley tweeted at the Popcorn Factory to complain about not getting her nephew's birthday snacks on time in the midst of a deadly pandemic..." 
The internet is questioning Nikki's political flip-flopping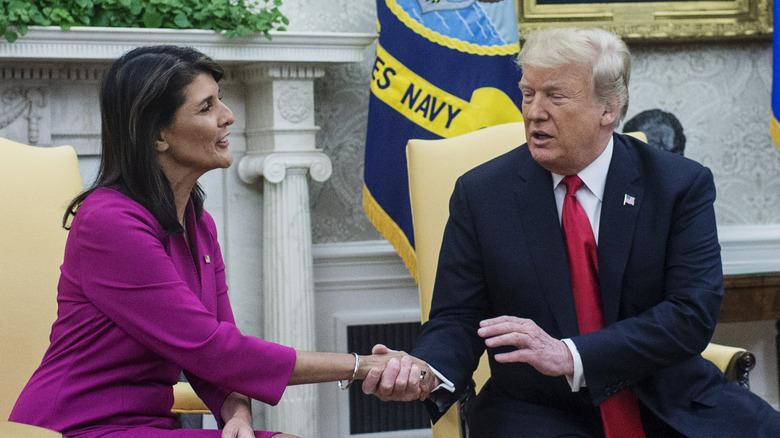 Bloomberg/Getty Images
Nikki Haley's comment did more than trigger social media into defending Vice President Kamala Harris as others used her comment as a way to criticize the former Trump Administration official herself. Journalist Brian Karem called Haley out by tweeting, "Nikki Haley – are you responding to a therapist's advice about confession being good for the soul?"
Author and playwright Paul Rudnick even called out the former U.N. Ambassador by writing, "Nikki Haley, who attacked VP Harris for wishing people a good weekend, is a suck-up, liar and hypocrite. She's the third grader with her hand in the air, eager to take credit for the correct answer she stole from someone else. She's every Kevin Spacey character only slimier," alongside a photo of her with former President Donald Trump.
While Haley was once considered a rising star within the GOP, her image has taken a beating over her public flip-flopping where Trump is concerned. One Twitter user took the trouble to chronicle Haley's latest about-face with the caption, "Nikki Haley saying 'we shouldn't have followed him'.......and then following him shows us that every single position she makes is based on opportunity and not morals..."