Inside Andrew Cuomo's Relationship With Brother Chris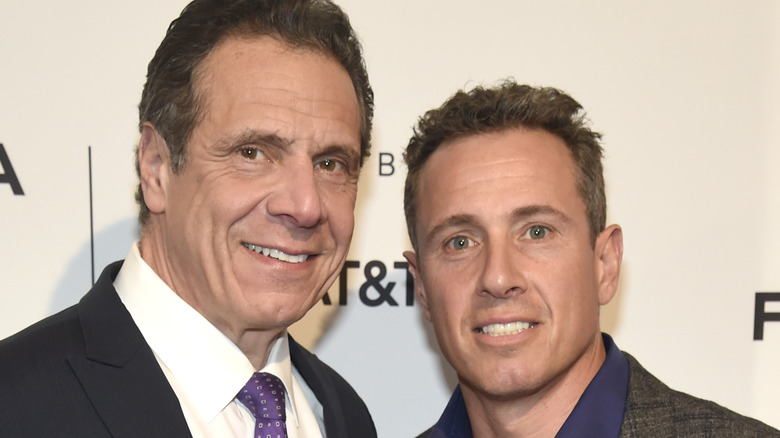 Kevin Mazur/Getty Images
The Cuomo brothers have been making headlines recently, but the two are no strangers to the spotlight. CNN "Prime Time" anchor Chris Cuomo is the son of former New York Governor Mario Cuomo and the brother of current New York Governor Andrew Cuomo (via Business Insider). A family already considered a political dynasty, their names rose even higher during the 2020 coronavirus pandemic, where Andrew was covered for his advocacy of strong health measures and increased ventilators and PPE for his state, while Chris was noted for his coverage of the epidemic, including a first-hand account of experiencing the virus himself and through his immediate family. And the truth is that despite the fame, this family is close and loyal.
The brothers, along with sisters Margaret, Maria, and Madeline, were raised by their father, the late Mario Cuomo, and mother, Matilda Cuomo (via Town & Country). Family ties have always been important to these brothers, as displayed in Governor Andrew's 2020 "Matilda's Law," a measure to protect the health of the elderly named after the family matriarch, a strong advocate for women and children in her own right. In fact, these family ties are so strong, that sometimes the two brothers have difficulty separating the professional from the personal.
The Cuomo brothers are loyal allies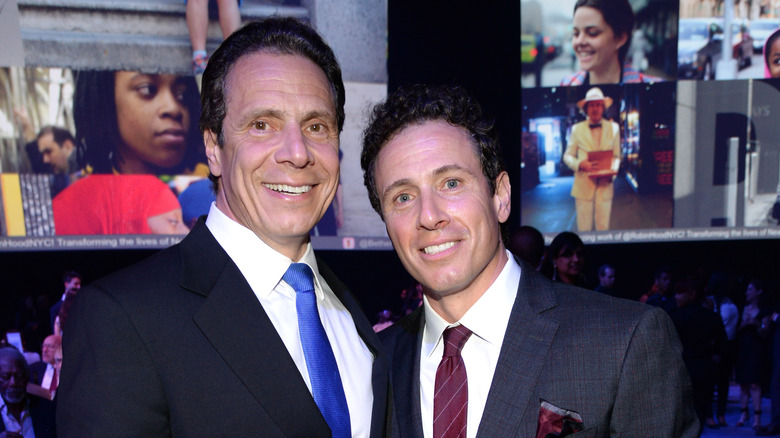 Kevin Mazur/Getty Images
During the 2020 coronavirus coverage, Chris and Andrew became known for their familial banter during interviews. Said Andrew to the recovering Chris, "Rule one is never hit your brother when he's down, and you're literally in the basement, so I'm going to refrain from any rebuttable today" (via NBC). Brother Chris however, remarked in good humor that it was probably best to "strike" while he was down and just wait until he gets healthy. Jokes aside, Andrew's admiration of Chris was evident. "For you to get up, do that show, share with people," said the governor of his brother, "that is a strength, and a character strength, that is really incredible."
And this loyalty became more apparent as scandal broke. As Governor Cuomo became the subject of sexual harassment allegations and claims of under-counting the number of coronavirus deaths, Chris was right by his side at strategy meetings — whether he should have been or not (via NY Times). Risking a breach of the long-held standards between journalism and government, Chris has since apologized for blurring this line, but noted, "I know where the line is. I can respect it and still be there for my family, which I must." Elaborating further, Chris said "of course" he'll always be there for his brother, because "family comes first."
It's clear these two siblings have many conflicting duties, but family is not one of these conflicts.