The Truth About Courtney Stodden's Engagement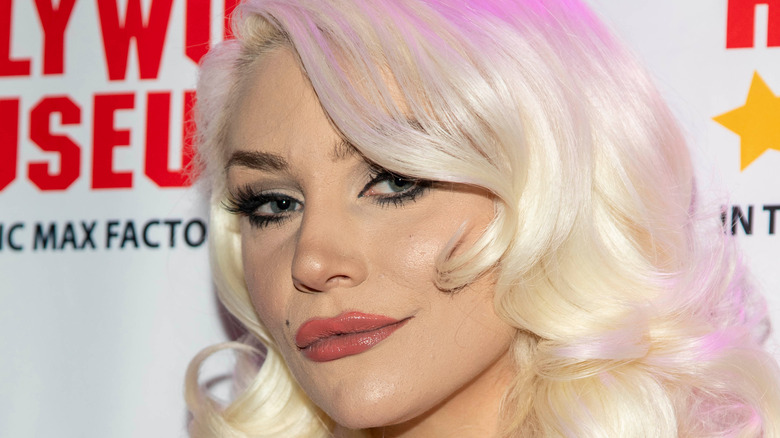 Shutterstock
Courtney Stodden may have become famous in 2011 after marrying 51-year-old actor Doug Hutchison when they were only 16 (via ABC News), but 2021 is proving to be the year in which their name is capturing headlines. Here's a brief timeline.
In April, Stodden came out as nonbinary, captioning a smoldering selfie with the words: "They/them/theirs. I don't Identify as she or her. I've never felt like I ever fit in anywhere ... My spirit is fluid with a kaleidoscope of color" (via Variety). The following month, they posted a jaw-dropping video and follow-up interview with The Daily Beast in which they made the bombshell claim that Chrissy Teigen bullied them when they were underage. "She wouldn't just publicly tweet about wanting me to take 'a dirt nap' but would privately DM me and tell me to kill myself," Stodden alleged. "Things like, 'I can't wait for you to die.'" The relentless browbeating from Teigen and other stars led Stodden to consider taking their own life. In the wake of the revelation, retailers Bloomingdales, Macy's, and Target pulled their deals with Teigen, despite the star's apology (The Hill).
On a more positive note, Stodden has also spent the year recording a new album, releasing a brand-new cosmetics line, and running their OnlyFans account, per The Daily Beast. Most importantly, they've been deepening their relationship with their boyfriend, Chris Sheng, who just put a ring on it.
Courtney Stodden shared the news of their engagement on Instagram
Over Memorial Day weekend, Courtney Stodden took to Instagram to post a clip of them flashing their sparkly (and sizeable) engagement ring, along with the caption: "I said yes ... OH and the ring made me gag it's so beautiful." Perez Hilton, whom Stodden claimed "stood up and was kind" during the alleged online attacks (via The Daily Beast), was one of many to offer them congratulations.
Stodden's movie producer fiancé, Chris Sheng, posted the same video to his account, leaving a long and heartfelt caption to go alongside it. "So this happened!" he wrote. "Not how I planned but the moment was right. On Friday, May 28 I proposed to the love of my life and they said, 'Yes.' I feel so blessed and fortunate. We have both grown so much since we first met, and the fact that we have both been able to grow into better, stronger, more secure individuals while still being in a relationship together makes me have faith that this partnership will last a lifetime" (via Instagram). 
According to People, the pair started dating in 2017, amid Stodden's divorce from Hutchison. Earlier on in the relationship, Stodden told Us Weekly they were "scared to live without a man who convinced me that I couldn't live without him nor would I ever find love again." Based on this happy news, it looks like they've finally found freedom and fallen in love.