The True Meaning Behind Mayim Bialik's Jeopardy! Wardrobe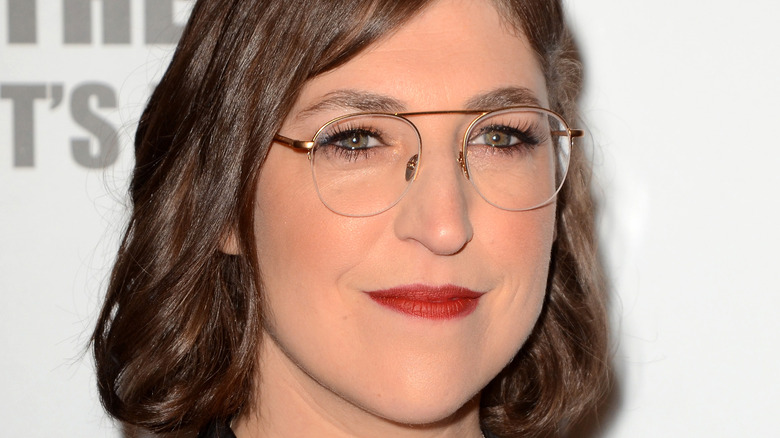 Shutterstock
Fans finally got to see Mayim Bialik host "Jeopardy!" on Monday (via CNN). Although we knew her stint stepping into the unfillable shoes of Alex Trebek was on the horizon, we were left wondering what she might be like playing quizmaster for a stretch of time. The actress had already made it clear she considered the gig a landmark moment for her, as she said, "I think this is the most iconic thing, you know, that I will ever do in my career."
Upon stepping behind the legendary lectern, Bialik shared more love for the game show and what it meant to her, noting on the telecast, "It is an incredible honor to guest host 'Jeopardy!' I was raised in a very creative and academic family, but it wasn't until high school that I fell in love with science, and that love led me to a PhD in neuroscience. I so appreciate that 'Jeopardy!' is a show that tests all aspects of intellect and allows the brightest minds to shine."
Bialik took her hosting role so seriously, she even put a tremendous amount of thought into her wardrobe. "This is actually something that I felt instantly really passionate about," she said in a video on the show's YouTube channel when asked what statement she was hoping to make with her fashion choices (via Today).
So what was behind Bialik's blazer?
Mayim Bialik was very intentional with her clothing choices
The "Blossom" star explained more about the suit and blouse she chose to host "Jeopardy!" in the YouTube video. "Much as women are accomplished in many fields and we've made so many changes in how we are represented and how we are seen, it's by in large a confusing time I think still for women in terms of what we're expected to look like and what people think when we dress a certain way or don't," she said.
"I really just wanted to look like the academic that I was trained to be," Bialik continued, going on to also note, "And to me, that does mean a certain amount of formality and decorum. And also in great respect to Alex Trebek, the image I have of him is in a suit, it's 'blazer'd' up."
The actress was quick to add she didn't intend to "look like a man" or "look masculine." She stated, "I wanted to choose things that were flattering and that I feel comfortable in and as an actress, you almost never get to have those things. And I also wanted to bring a little bit of flair, but not too much."