Inside John Krasinski's Friendship With Steve Carell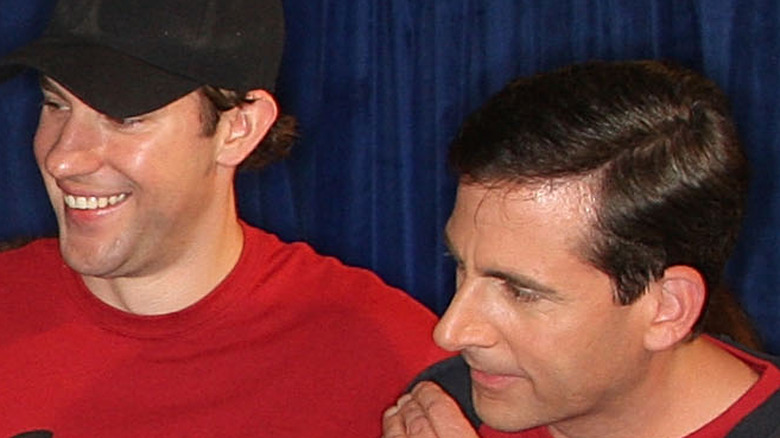 Frederick M. Brown/Getty Images
"The Office" is one of the most beloved TV shows of all time. The hilarious series centered around the people who worked at the Dunder Mifflin paper company in Scranton, Pennsylvania. The show featured iconic characters like boss, Michael Scott (Steve Carell), and quirky salesman Dwight Schrute (Rainn Wilson). It also had its share of romance, including fan-favorite couple Jim Halpert (John Krasinski) and Pam Beesly (Jenna Fischer), per Cinema Blend. While there were plenty of friendships and rivalries during the show's 9-season run, one of the most surprising friendships was between Michael and Jim (via Screen Rant). Although the two characters couldn't have been more different, they still had a mutual respect for each other.
There were many instances where Michael and Jim were in competition with one another or even got on each other's nerves. However, there were also plenty of sweet moments between the characters. One such case was when Jim honored Michael after he closed on his condo, which made Michael feel special and put his mind at ease about the purchase. In another episode, Jim confides in Michael about his feelings for Pam, and Michael encourages Jim to pursue Pam although she was engaged to Roy. Jim later returns the favor by giving his boss advice on how to court his love interest, Holly. However, the most heartwarming moment of their relationship came in Jim and Michael's last scene together. Jim tells Michael he's the best boss he's ever had and the two say goodbye as Michael prepares to leave Pennsylvania. Happily, in real life, John Krasinski and Steve Carell are also buddies.
John gushed over Steve's talent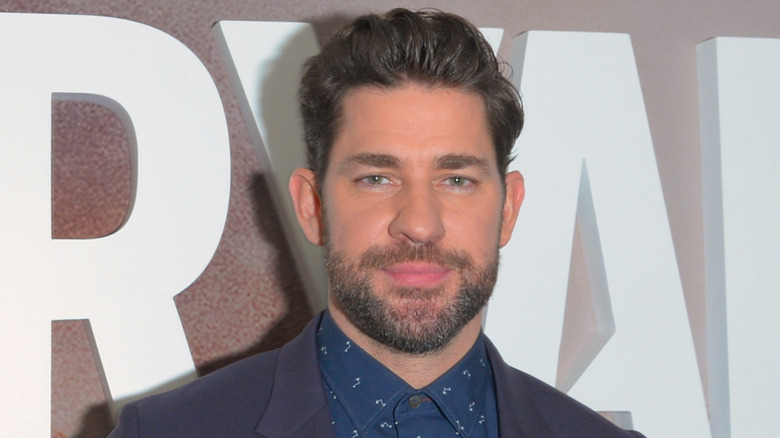 Shutterstock
In 2011, when Steve Carell decided to step away from "The Office," his friend and co-star John Krasinski spoke out about the loss he felt in saying goodbye to the actor, as well as the character of Michael Scott. It's "completely bittersweet," Krasinski told Parade after filming his final scenes with Carell. Fans may remember that Carell's character left the series when he opted to move to Arizona with his fiance, Holly.
"It's an insanely special relationship we have with each other on the show, and Steve's leaving is the first time we've been snapped out of it and had to think about how much we all rely on each other. No one can replace him. That goes for him as an actor, because no one has the sense of humor he does, but also there's no person who has his incredible positivity and professionalism, and just a really good heart. So we're losing a friend first and foremost," Krasinski added. However, the duo have kept in touch.
Krasinski and Carell recently reunited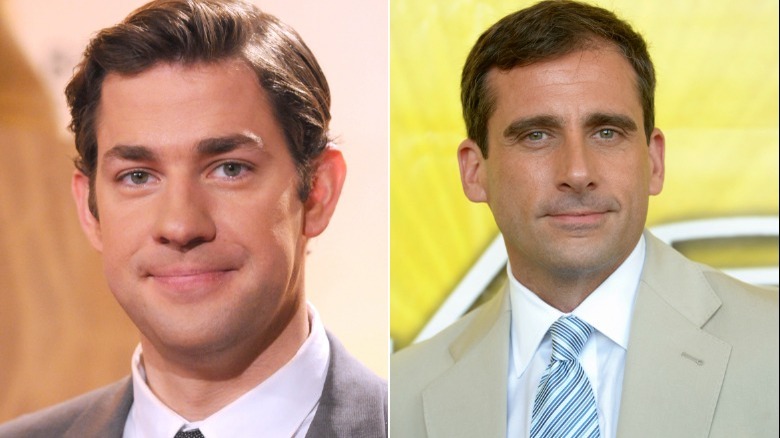 Shutterstock, Shutterstock
Years after "The Office" ended, Steve Carell joined John Krasinski for a fun video reunion. During their chat, the pals catch up and even reminisce about their days on the hit NBC comedy series (via USA Today). "I think that most of the memories have to do with things that we shared as a cast ... Part of what was so much fun about it was everybody in the cast was rooting for everybody else. People would step back when it was time for other people to shine and celebrate it," Carell told Krasinski. 
For his part, Krasinski touched on the hopes for an "Office" reunion in the future, revealing that he'd settle for a simple hang out with the cast. "Listen, I know everyone's talking about a reunion, but hopefully one day we just get to reunite as people and just all get to say 'hi.' I miss you a ton, man," Krasinski told Carell. The duo appeared to still have their chemistry, and some fans are hopeful that they'll see the actors together again on-screen, sometime in the future.