What You Should Know Before Getting Cornrows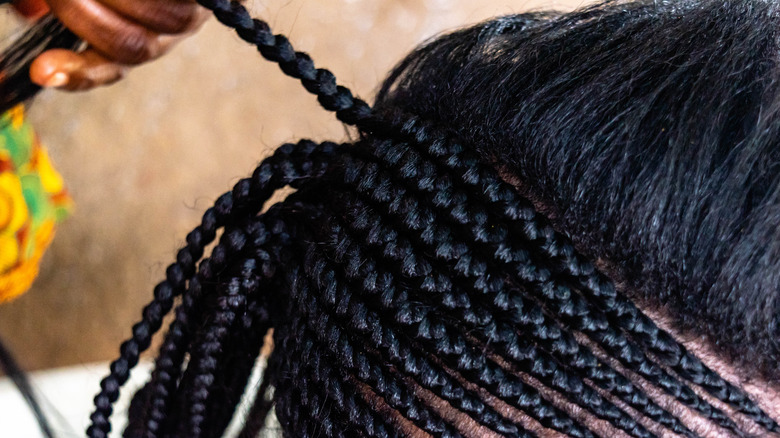 Shutterstock
Getting cornrows is one of the best ways to style your hair without damaging it. Think of it as a protective, low-maintenance hairstyle that looks great on both men and women. Plus, it can free up your time in the morning and make you forget about bad hair days. Just make sure you know how to care for your tresses before and after making the switch.
For starters, note that cornrows come in all styles and shapes. There are side cornrow braids, big cornrows, French braid cornrows, half-head cornrows, and everything in between. Some hairstyles may require extensions. What they all have in common is that they are braided close to the scalp and created using the underhand technique.
Cornrow braids won't pull your hairline back, but they can break your hair if the braids are too tight, stylist Shannon Currie told GQ. "This is also the most painful style because you're plaiting close to the scalp, but that shouldn't last beyond having the treatment done," she added.
Make your cornrows last longer with these simple tips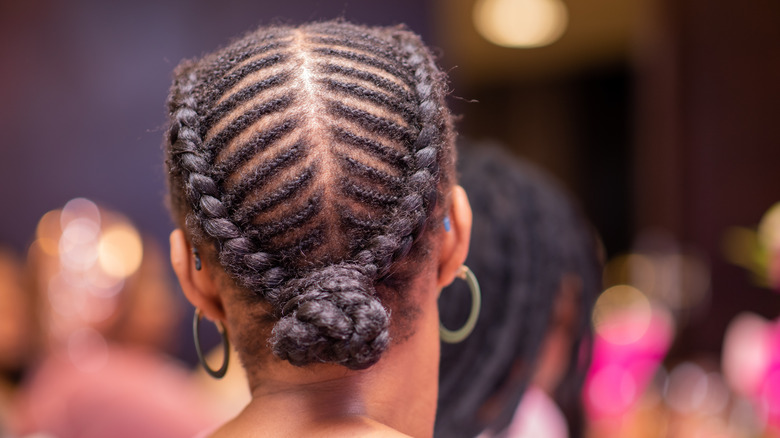 Shutterstock
Kat Graham, Nicki Minaj, Zendaya, Tayshia Adams, and other celebrities rocked this hairstyle trend on the red carpet. But what does it take to make your cornrows look great and last longer? Stylist Shannon Currie says that cornrow braids should last between two and four weeks, depending on how well you care for them (via GQ). Generally, they are easy to maintain. 
Simply cover your head with a silk scarf during sleep to avoid frizz and breakage. Unlike cotton, silk retains moisture and prevents your hair from drying out, according to celebrity stylist Jen Atkin (via Cosmopolitan). You may also need to cover your braids while cooking to make sure they stay fresh and clean. Massage your scalp with coconut or avocado oil every few days after getting cornrows, per GQ.
Cosmopolitan recommends using a refreshing mist between washes to keep your hair clean and prevent odors. And yes, you can wash your hair while it's braided. Apply a clarifying shampoo and then use vertical motions to wash your hair from the scalp to the ends (via Allure). Only use conditioner on the ends of your hair.
Another option is to apply dry shampoo twice a week, according to dry shampoo maker Batiste. To do so, spray the product into your hair about 12 inches away from the scalp. Wait two minutes and then massage it into your head. Use a damp microfiber towel to remove excess moisture.