The Truth About The Feud Between Mariah Carey And Jay-Z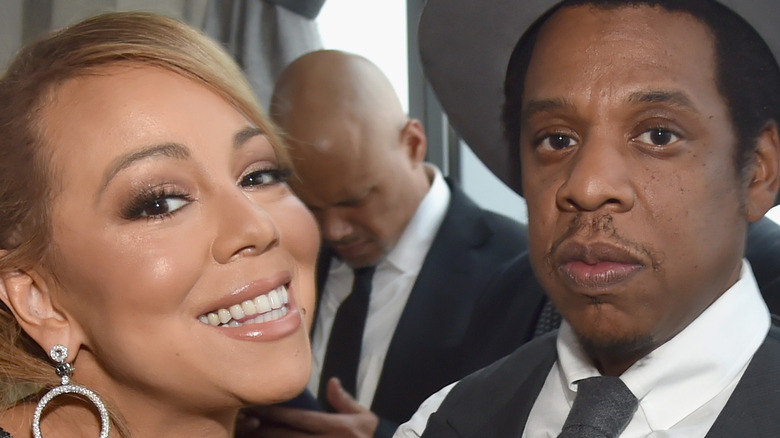 Kevin Mazur/Getty Images
Back in the '90s, Mariah Carey and Jay-Z were collaborators who co-wrote her hit song "Heartbreaker." At the time, Carey said that not a lot of people knew who the "Empire State of Mind" rapper was, but "lovers of hip-hop knew who he was, and were very in awe of him, his talent, where he came from, his whole story and everything" (via The Daily Mail). The two would also collaborate on Jay-Z's song "Things That U Do," and later the "We Belong Together" singer would sign with Jay-Z's company, Roc Nation. 
However, it seems the "history as friends and as collaborators" has ended. According to The Sun, Mariah Carey has decided to leave Roc Nation after a reported "blazing row" happened between the two artists. The decision seems a bit sudden considering the singer is currently working on her next album, so you might be wondering what exactly caused this feud between two of music's biggest superstars and former friends. Let's find out.
Mariah Carey and Jay-Z reportedly had a heated argument over the future of her career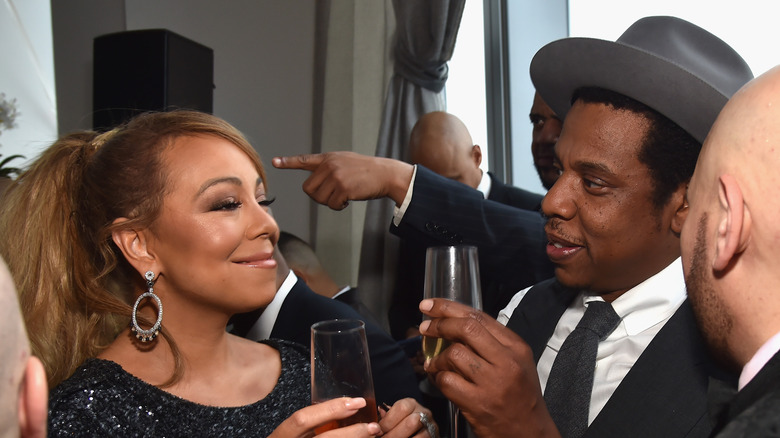 Kevin Mazur/Getty Images
Mariah Carey has been with Roc Nation since 2017, and since then, she has seen some success with a 30th anniversary album release, a bestselling memoir, and even an Apple TV+ Christmas special. From the outside, it looks as though Carey's career is in a good place, but according to the Daily Mirror, the two musicians had a big fight over next moves for the singer. The dispute over Carey's future career was reportedly heated. However, an insider has said that the two have amicably decided to part ways (via Metro). 
Metro has also said that Carey is now with Range, which is where her former manager from Roc Nation is a partner. It could be that she just decided to follower her former manager. Either way, both Carey and Jay-Z have not made any public statements on the matter. Roc Nation, however, has already taken Carey down from their list of artists they represent. Whether it was heated or not, hopefully these two can continue a personal friendship in some way even if the professional relationship has ended.