Tayshia Adams Reveals Her Go-To Favorite Makeup Products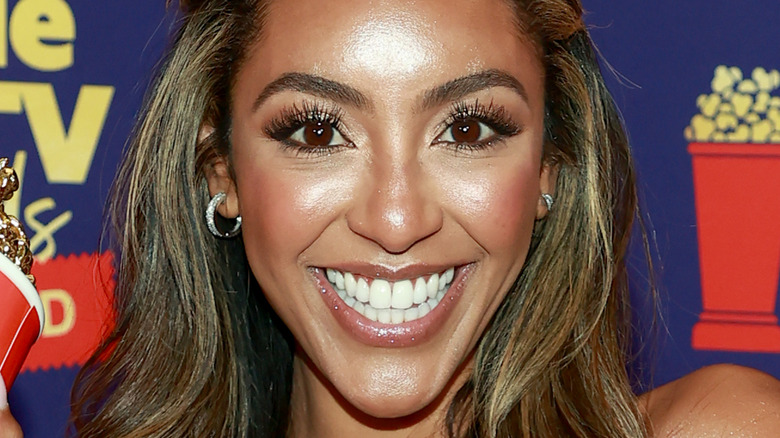 Matt Winkelmeyer/2021 Mtv Movie And Tv Awards/Getty Images
Tayshia Adams has quickly risen into a star, going from a successful "Bachelorette" lead to now becoming a mentor for Katie Thurston's upcoming season of "The Bachelorette." Known for her glowy, fresh face, it's not surprising that Redditors praise Tayshia's various makeup looks and want to re-create them. Well, Tayshia let the cat out of the bag by sharing all of her go-to makeup products she keeps in her Dior purse, according to a Refinery29 video. 
Her fiancé, Zac Clark, gifted her with the bag, where she keeps all of her on-the-go essentials. She keeps two shades of her favorite concealer — the NARS Radiant Creamy Concealer. She also keeps the Bobbi Brown Illuminating Powder to use as a finishing powder for touch-ups. And to really lock her makeup in place, she has the Urban Decay All-Nighter Setting Spray in her purse. Tayshia's favorite mascara is Chanel Le Volume Mascara in Black Noir. Keep reading to find out more about her go-to beauty products.
Tayshia Adams likes to keep it simple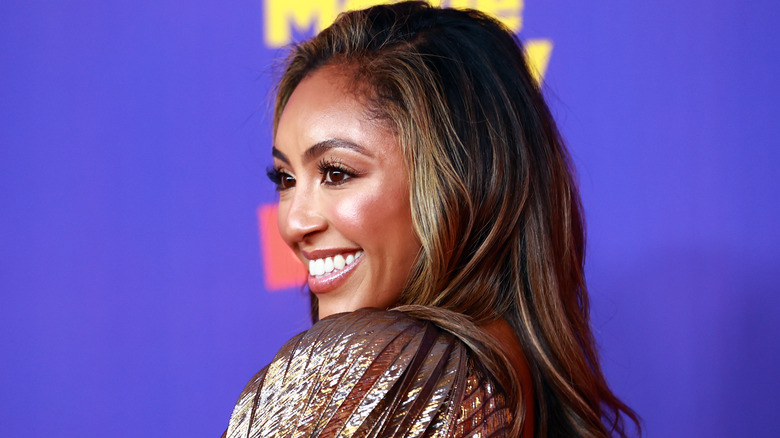 Matt Winkelmeyer/2021 Mtv Movie And Tv Awards/Getty Images
"I'm usually really simple when it comes to my lips," Tayshia Adams said in the Refinery29 video, adding, "But I feel like after 'The Bachelorette,' I've experimented a little bit more with lip liners and whatnot." She has several lip products suitable for every type of occasion, from charity events to award shows. She carries a tinted lip balm (Bobbi Brown Extra Lip Tint in Bare Punch), a moisturizing lip balm (Summer Fridays Lip Butter Balm), a lip liner (Make Up for Ever Artist Color Pencil in 610 – Versatile Chestnut), and a peach sparkly lip gloss (Armani Beauty Gloss D'Armani Lip Gloss). Tayshia especially raved about the Summer Fridays Lip Butter Balm's formulation, saying, "Every girl should have this in her bag."
"If your skin doesn't need a lot of makeup, don't put a lot of makeup on it," Tayshia told Byrdie in March 2021. She added, "If it needs makeup, put it just where it needs to be instead of putting it all over." For Tayshia, the most important part of her makeup routine is actually right before she puts any makeup on her face. She is diligent about prepping her skin and making sure her face is moisturized before putting foundation. Even on shoots, she puts her serum and moisturizer on before the professional makeup artist starts to do her makeup, and they often tell her they are pleased that she preps her skin.
Tayshia Adams loves her luxury products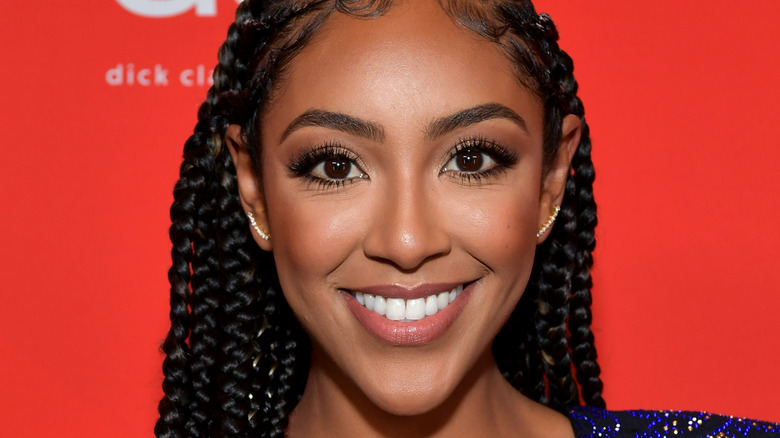 Emma Mcintyre /ama2020/Getty Images
Tayshia Adams has several other high-end makeup products that she swears by in her routine. In an October 2020 interview with Cosmopolitan, Tayshia said she swears by the Giorgio Armani Luminous Silk Foundation. Since then, she has found a new holy grail foundation thanks to "Bachelorette" makeup artist, Gina Modica. She told The Cut in April 2021, "I told her [Gina Modica], Giorgio Armani is the only foundation that I will use because I've tried a million others, and I know my skin breaks out." 
Modica agreed to use the Giorgio Armani foundation, but told Tayshia she also wanted to try the Temptu Airbrush on her. Tayshia has since switched to the Temptu Airbrush, adding, "It's just super light, and it's phenomenal." Adams also said she loves Laura Mercier Translucent Powder and Chanel Les Beige Healthy Glow Luminous Colour Bronzer (via Cosmopolitan). According to Byrdie, she also uses Huda Beauty's The Bronze Sands Palette that has a bronzer, highlighter, and blush she feels best suit her skin tone.