What Does Kane Brown's Worship You Mean?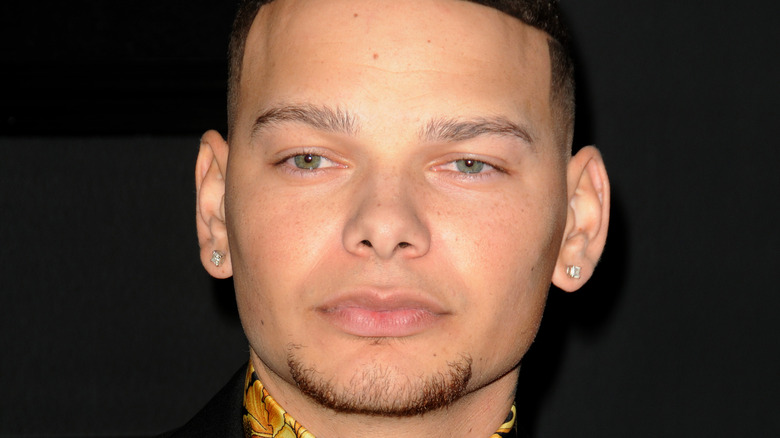 Shutterstock
Country star Kane Brown is one of the hottest musicians of the moment. The Georgia native recently released his highly successful third EP "Mixtape, Vo1. 1"(via The Country Note). The seven-track collection peaked at No.2 on the Billboard Top Country Albums chart and received rave reviews. The 2020 EP featured many hits including the standout "Worship You." This sweet ballad peaked at No. 24 on the Billboard Hot Country Songs chart and was nominated for a 2021 CMT Music Award for Male Video Of The Year (via Country Evolution).
Brown co-wrote the track with acclaimed writers Matt McGinn, Charlie Handsome, and Eskeerdo (via Genius). The 27-year-old told ABC, "When we were writing it, we really didn't know what to write about. I think we tried like four different songs before we wrote that song. But I remember us writing it. It came, you know, so fluent. We actually wrote it pretty fast." He also explained that writing the track was like a religious experience, adding, "It's just one of those songs that I've listened to – when I first wrote it, I listened to it a hundred times. I was just like, 'This is the song. This is it. This is it.' And then [producer] Dann Huff did his magic on it."
Worship You is very close to Kane's heart
"Worship You" is a love song dedicated to Kane Brown's wife Katelyn Jae. The track uses religious metaphors and imagery to compare Brown's love for his wife to that of his love for his religion. He croons. "Don't get me wrong / I'm a God-fearing Christian man / But if you were a religion then, damn / I don't know what I'd do / Yeah, I might have to worship you." 
Brown explained to Country Now, "Worship You," is basically "Heaven" 2.0, it's saying that your girl, your wife, is your everything. You know that she don't walk on water or anything like that, but you basically praise her."
The Country singer also told the publication that over time the meaning of the track evolved to include his baby, Kingsley. He continued, " I was like you know, this song could be about my daughter. It's basically just worshiping my family now, they're both my girls and I'd do anything for them. Worship the ground they walk on." The award-nominated music video for the track features both Brown's wife Katelyn and daughter Kingsley (via YouTube).