Meghan McCain's Harsh Comments On Trump's Latest Appearance Are Turning Heads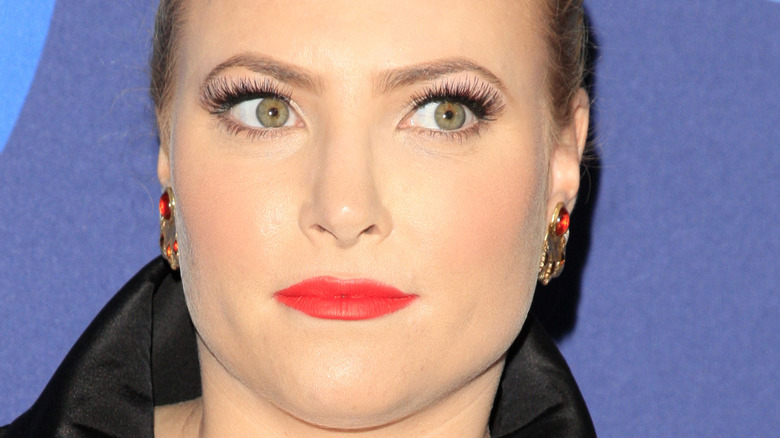 Shutterstock
So, anyway, it turns out that Donald Trump didn't put on his pants backward before speaking at North Carolina's Republican Party state convention. Snopes went ahead and watched the former president's 90-minute speech and combed through official photos from the event. It's dutiful researchers found the zipper in the front of Trump's pants, where they belong. You could have fooled Twitter, which had a field day with the #Trumppants hashtag while it lasted. The social media uproar over the state of Former President Trump's trousers is perhaps best summed up by CNN anchor Jim Sciutto, who tweeted that the fiasco was a "perfect reminder that taking breaks from the Twitter-outrage-of-day has gotta be life-extending."
False alarm or not, Donald Trump's convention wardrobe earned the scrutiny of The View's cohosts who discussed ad nauseam the causes, consequences, and implications of the uproar surrounding the former president's bizarre clothing choice. Yes, Meghan McCain had strong opinions about how the potential 2024 presidential candidate should and shouldn't be presenting himself.
Why Meghan McCain compared Trump to 'a crazy, ex-mad king'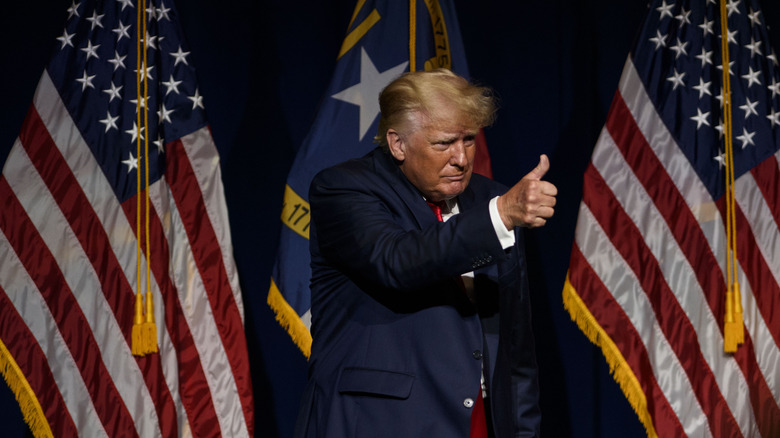 Melissa Sue Gerrits/Getty Images
Backward pants or forward, Meghan McCain thinks that Donald Trump needs to get his act together if he wants voters to take him seriously in the future. "Otherwise, you can kind of look like a crazy, ex-mad king." McCain posited on The View (via Twitter). "He's been like a wedding singer at Mar-a-Lago, and he just looks really disheveled. He doesn't look good." McCain further emphasized that "If [Trump is] really looking to lead the party, this is not the way he should present himself for a lot of different reasons." McCain refused to publicly wonder why the former president's pants looked the way they did. Many of The View's Twitter followers happily crossed the line for her, however. "But what is inside the pants – the most puzzling question remains unanswered," tweeted one in response to the clip. 
Whatever the reason for Trump's wardrobe mishap, one thing is certain. It's monopolized the attention of news outlets and social media, during the same week that other Trump-related news might have. Take, for example, a new The New York Times report indicating that the former president's chief of staff, Mark Meadows, tried to pressure acting attorney general Jeffrey A. Rosen to investigate claims of election fraud, even after they'd largely been discredited.