Inside Stephanie Beatriz's Relationship With Actor Brad Hoss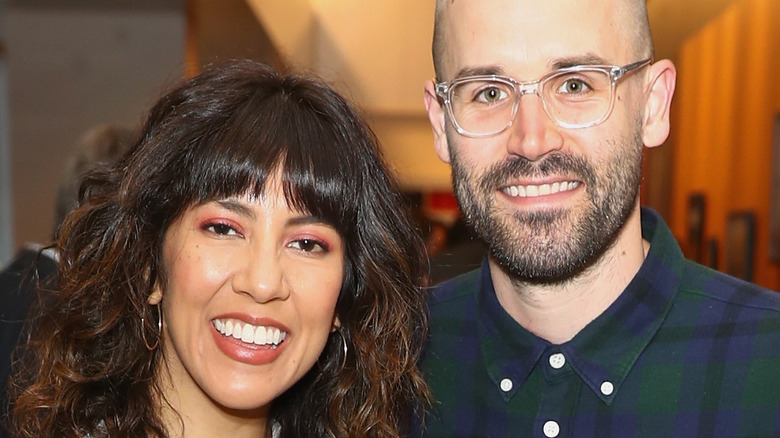 Joe Scarnici/Getty Images
While Rosa in "Brooklyn Nine-Nine" has experienced a whirlwind of wild relationships throughout the beloved sitcom, actor Stephanie Beatriz has kept her sights set on one person. Beatriz, who plays Rosa in the critically-acclaimed show featuring Andy Samberg and Terry Crews, recently announced via People that she is expecting her first child with husband Brad Hoss. The couple got engaged in 2017 and had their wedding a year later. In fact, Beatriz and Hoss planned the entire 300-guest wedding themselves. "My friends are calling me 'bridechilla,'" Beatriz told People. "They're like, 'Why aren't you stressed out?' and I'm like, 'Cause I'm marrying an awesome human.'"
Beatriz's sentiments about her husband speak to the close bond they share. But how did the couple get so close in the first place? As Beatriz revealed on Instagram, she knew Hoss was someone special on their first few dates. "This pic was taken on maybe our second or third date," Beatriz wrote under a black-and-white snapshot of herself and Hoss. "This was when you poked fun at how I parallel parked (I was QUITE far from the curb) and I defensively insisted that I was a good driver and if you could do better, you were welcome to drive next time, but since I was driving, no commentary was necessary or welcome THANK YOU. I think you laughed. And then I laughed too, because I really wanted there to be a 'next time.'"
Stephanie Beatriz loves how husband Brad Hoss lifts her up
In her early days of dating Brad Hoss, Stephanie Beatriz began to learn all the things she loved about her soon-to-be husband. "I found out quickly that you're someone who lifts others up, tries his best to see what he can do to make the world a better place for everyone, is a loyal friend and an incredibly empathetic human," she wrote on Instagram. When the pair got engaged, they seemed as though they couldn't be any happier. Beatriz flaunted her one-of-a-kind, ethically-sourced engagement ring in photos where she and Hoss were both beaming (via People).
Beatriz and Hoss also keep their relationship fun and exciting by sharing spontaneous moments together. In 2019, the couple traveled to Japan and took pictures in front of the famous Kaminarimon Gate in their wedding outfits. "Yes, we packed our wedding clothes and took them to Japan," Beatriz wrote in the caption of a photo. "With any luck, we will be old together someday and look at these photos together and remember what a magical thing it is to travel and learn and eat and laugh with a partner who makes everything WAY more fun."