This Is How Erika Girardi Told Her Co-Stars She Was Divorcing Her Husband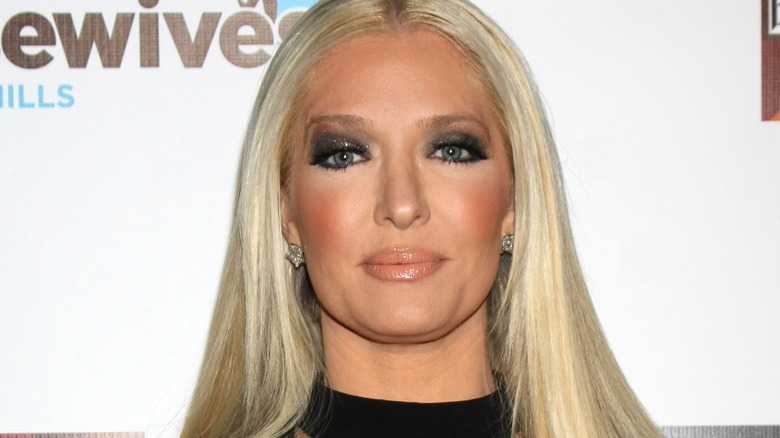 Shutterstock
As the 11th season of the "Real Housewives of Beverly Hills" continues to air, fans have been waiting for the biggest bombshell of the season to drop — Erika Girardi's divorce and subsequent legal troubles. Last night, towards the end of the third episode, viewers watched as Girardi's costars received a text from the 49-year-old singer, explaining that she was divorcing her husband of 20 years, Tom Girardi.
According to People, Erika Jayne filed for divorce on election day — November 4, 2020. The cast had just returned from a group trip to Lake Tahoe and woke up to a group text from their friend and co-star. The camera panned to the reactions of Lisa Rinna, Kyle Richards and Dorit Kemsely as they made sense of the news. The text read, "Ladies, I truly consider you my close friends. And this is why I'm reaching out to tell you that I filed for divorce this morning."
She added, "Thank you for supporting me. This will be tough."
Kemsely exclaimed out loud, "Oh my god" before the three quickly joined a group FaceTime call. One of the shocked wives asked what was going on before Kemsley asked her friends, "Did you have any idea?"
Rinna and Richards both shared their surprise as well. "We were just in Tahoe [with her] and not one peep about anything," Kyle exclaimed.
Lisa Rinna explained that Erika Girardi "had to [divorce] like this"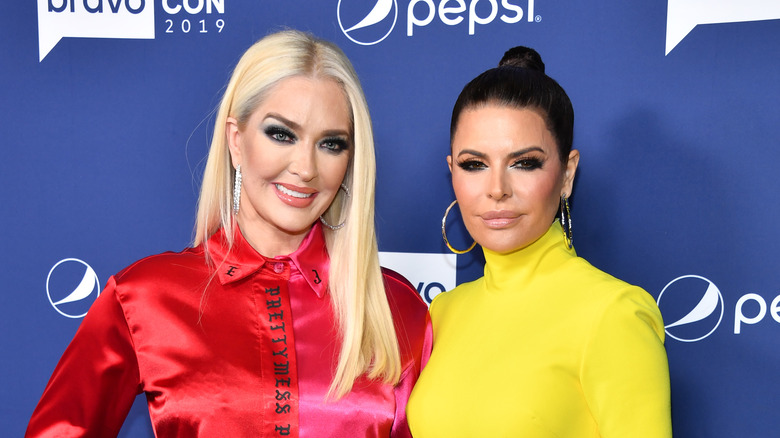 Dimitrios Kambouris/Getty Images
Over the years fans have accused Erika Girardi, who is also known by her stage name, Erika Jayne, of only sharing high-level details of her life while avoiding the bigger moments. Her tight-lipped attitude towards her marriage apparently stayed true all the way up to the day of her divorce. In the episode, Rinna added, "Zero! Zero, zip, zilch, nothing," to her conversation with her co-stars, People notes.
She also offered her opinions surrounding why she kept it from her friends, "It's Erika. So whatever is going on, she had to do it like this. She couldn't tell anybody."
Currently, her estranged husband is under a court-ordered conservatorship with his finances, healthcare and daily interactions under his brother's supervision, Page Six reports. In March, the 86-year-old attorney was formally disbarred from the state of California. As the season progresses, viewers will likely see Erika's reactions to the lawsuits and legal proceedings that have continued to follow both her and her husband. According to Realtor.com, the pair put their house on the market in May for $13 million after Tom pleaded poverty earlier this year. 
Hulu is also releasing a documentary on the pair called "The Housewife and The Hustler", People reports, which is set to air in mid June.