Inside Donald Faison's Dating History
Shutterstock
It's likely you recognize Donald Faison as Alex from "Emergence" and Dr. Turk from "Scrubs." The New York City-born actor has an illustrious career spanning back to the '90s. People reported that alongside having a full career, Faison is a father and has a bustling private life. So, here's the down-low Donald Faison's dating history. His Instagram is packed full of photos of Faison with his wife and children.
People revealed that Faison isn't just a massive onscreen star, he's also a really busy dad. The publication writes that he's a dad of six and is dedicated to being a family man. "As my kids have gotten older, I've become ... not more opinionated, but I feel like I've had to use my experiences in life to explain to them why what they're doing isn't going to work," he told People, "But as far as being strict, no. And that's good and bad." He said that he's proud of the people his kids have become and they're a big happy family.
While the majority of Faison's children have reportedly lived with him and his current wife, CaCee Cobb, they aren't biologically shared by the couple.
Donald Faison has been married twice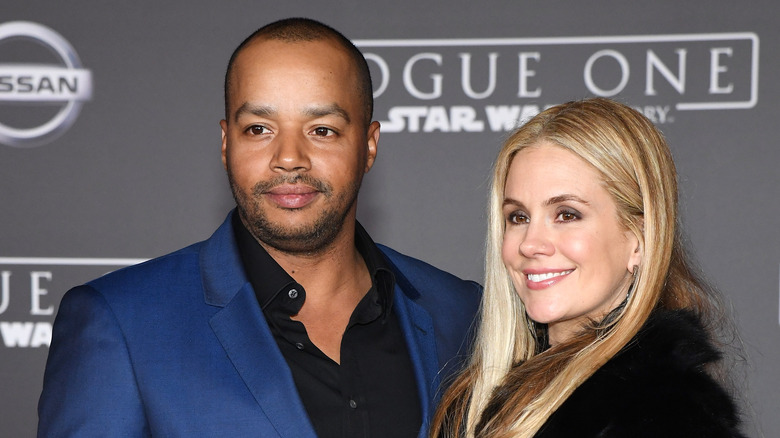 Ethan Miller/Getty Images
According to Famous Hookups, Donald Faison was in a relationship with former partner Audrey Ince. The pair had a son in 1997 called Shawn. Following their split, People explains that Faison met and got into a relationship with Lisa Askey. She was a nursing student at the time. In 1999 they had twins, Dade and Kaya, and in 2001, their son Kobe was born. They married the same year.
However, per Page Six, the couple separated in 2005. Shortly after his divorce, he started dating "Friday Night Lights" star Minka Kelly. According to the publication, they were together for two years.
Life and Style magazine explains that he then started dating CaCee Cobb. The couple tied the knot in December 2012 at "Scrubs" co-stars Zach Braff's house and Jessica Simpson was the maid of honor. The couple went on to have two children, Rocco in 2013 and Wilder in 2015.
On her sixth birthday, Faison posted a picture of Wilder and wrote, "It's an honor to be your father. You're growing up so fast that I'm scared to blink. In your own words – I love you more than yesterday! I love you to infinity and beyond!!! @caceecobb thank you for bringing all this Joy back into my life. I love you."
It'd seem that while Faison hasn't had the longest list of former partners in Hollywood, his big family keeps him more than busy.