The Surprising Tool You Need For Perfect Lipstick Is Already In Your Bathroom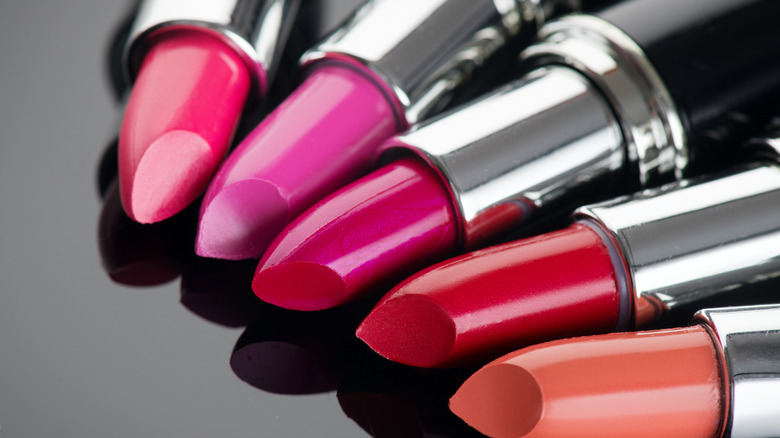 Shutterstock
When it comes to beauty, it's a well-known fact that lipstick can completely transform a person's appearance. Lipstick can easily boost your confidence, spice up a simple makeup routine, and turn day-time glam into an unforgettable night-time look. Whether you prefer a bold red, a pretty pink, or a flattering nude, there's no doubt that swiping on your favorite shade will brighten your appearance.
While adorning your favorite lippy can be a major mood-booster, it can also lead to some issues. The shrinking number of lipstick-lovers know that this product tends to move. Whether it's on your teeth, your cheeks, or your glass, lipstick rarely remains on just your lips — and don't even get people with prominent Cupid's bows started on just how difficult it is to get lipstick application right. What makes this even worse is when your lipstick ends up all over your face before you even had a chance to live the door. Luckily, a popular TikTok user took to her account to show her secret for the perfect lipstick application.
Try out this TikTok hack for perfect lipstick application every time
TikTok creator and makeup aficionado Tessla Marie took to her account to showcase her makeup hack for perfect lipstick application (via TikTok). Surprisingly, the beauty guru suggested that using a q-tip guarantees you'll keep your lipstick in place. In her video, she placed a cotton-ended q-tip horizontally between her lips and took a lip brush to precisely apply the product. In a voiceover, she mentioned that it's always hard to apply lipstick to the corners of the mouth. She showed that using a q-tip creates the perfect amount of space in between the lips to reach into the corners and let excess product land on the tips of the device.
If you want to replicate Tessla Marie's perfect pout, you can probably find some q-tips in your bathroom or easily purchase them at a local drug store. If you want to recreate her shade, you can look for any dark rose-colored lipsticks or use the Seint Lip + Cheek in Sandstone, just like she did.