The Truth About Kirstie Alley And Scientology
Robin Marchant/Getty Images
Actress and agitator Kirstie Alley has endured her fair share of controversies over the years, memorably claiming, in an interview with Tucker Carlson, that she'd been "blackballed" in Hollywood after publicly endorsing Donald Trump's run for president. "You can be cooking meth and sleeping with hookers, as long as apparently you didn't vote for Trump," Alley quipped (via The Independent). The actress has tussled with many people over the years, celebrities and normal folk alike, mostly due to her politics and isn't afraid to speak her mind on a variety of topics.  
However, the star of iconic movies including "Drop Dead Gorgeous" and TV shows such as "Cheers" (via IMDb) has also faced intense criticism over her long-held ties to the Church of Scientology. Alley confirmed in a tweet that she'd been a proud member since 1978, and her faith hasn't wavered in the time since despite the efforts of fellow celeb, and former convert, Leah Remini, who's worked tirelessly to denounce the church, leading the two ladies to feud extensively (via Us Weekly). It's unlikely Alley is going to denounce Scientology any time soon, however. 
The actress is a staunch defender of her religion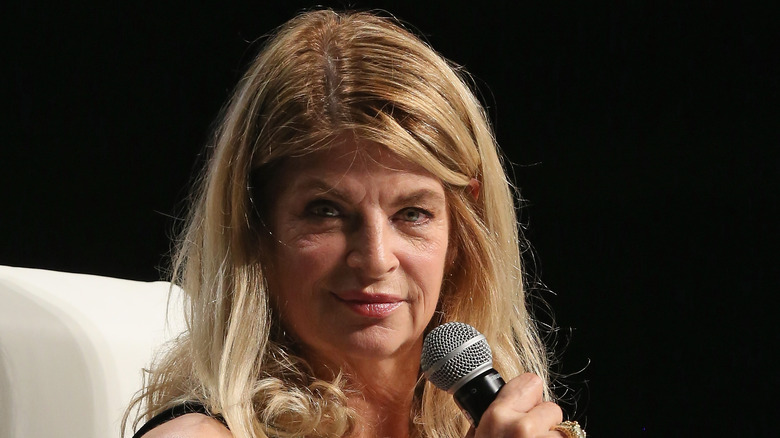 Gabe Ginsberg/Getty Images
While appearing on "Celebrity Big Brother" back in 2018, Kirstie Alley opined that the best way for curious outsiders to learn about her controversial religion was through reading the various books on the subject. When asked whether Scientologists worship a God, Alley demurred, reiterating, "you should read a book," (via Outsider). Although she attempted to demystify Scientology, the actress has made some outlandish statements about their belief system, telling Tucker Carlson that psychiatrists ply their clients with drugs to get them hooked. "I don't think you're mentally ill if you're depressed," she argued also, revealing Scientology cured her so-called depression when Alley was recovering from the death of her granddad as a kid (via Radar Online).
According to The Sun, the "Drop Dead Gorgeous" star informed Howard Stern, during an appearance on his show, that nobody is "shunned" or "chased" when they wish to leave Scientology, as Leah Remini and many of her compatriots claim. "When you're generalizing and when your goal is to malign and to say things about an entire group ... when you decide to blanket statement that Scientology is evil, you are my enemy," she stated firmly. 
Although Alley was part of the ensemble cast for "Cheers," she was the sole member who never appeared on its hugely successful spin-off "Frasier." Ranker notes she refused to take part because the show centers around psychiatry. However, creator David Lee responded by stating simply, "I don't recall asking."