How Tayshia Adams Really Feels About Blake Moynes' Appearance On The Bachelorette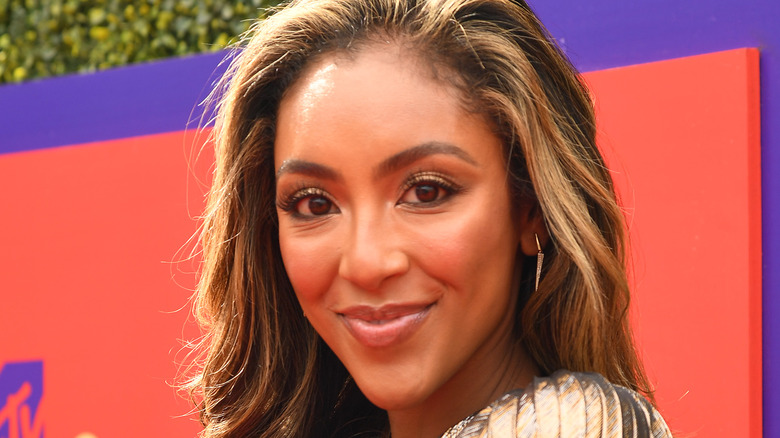 Kevin Mazur/2021 Mtv Movie And Tv Awards/Getty Images
Katie Thurston's season of "The Bachelorette" is set to be one of the most dramatic of all time. In addition to Katie admitting that she nearly quit in the middle of filming, she'll also go through some ups and downs with the many men that are competing for her hand in marriage. One of those men will be a familiar face to fans of the show. Blake Moynes will show up during Season 17 of "The Bachelorette" (via People Magazine). Viewers will recognize him as one of Tayshia Adams' constants from Season 16 of the series.
In a newly released preview for what's to come on Katie's season, Blake is seen showing up late and holding a large boombox over his head in hopes of getting Katie's attention. Blake later reveals that he wants a relationship with Katie and is ready to throw his hat into the ring. "I'm a little bit late to this, but Katie is the one, so I just had to show up. I know that s*** is gonna get crazy," Blake tells the camera. Of course, Blake will likely come face-to-face with his ex-girlfriend, Tayshia, who is currently serving as one of the hosts this season following longtime host Chris Harrison's exit from the franchise. Now, Tayshia is opening up about what it was like to see Blake show up on set in hopes of winning Katie's heart.
Tayshia was supportive of Blake and Katie's relationship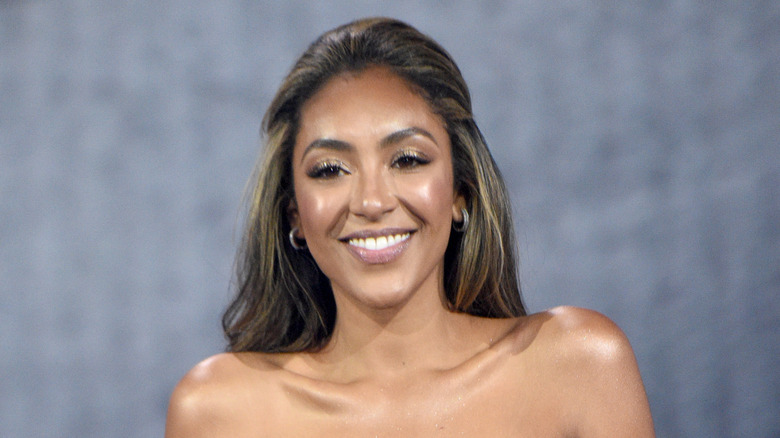 Kevin Mazur/2021 Mtv Movie And Tv Awards/Getty Images
According to Us Weekly, Tayshia Adams recently opened up about what it was like to see her former fling, Blake Moynes, show up during Season 17 of "The Bachelorette" in hopes of getting a chance to compete for Katie Thurston's heart. Tayshia, who sweetly got engaged to Zac Clark during Season 16 of the show, admits that it was a bit awkward to see Blake burst in to pursue Katie. However, she claims she was in support of a possible Blake and Katie love connection.
"I was a little shocked, but in a good way, you know, I had a conversation with him and he's a good man. So, if he felt like he wanted to show up and surprise someone, then I stand behind it," Tayshia stated. "That's why it's so nice to have women there to support you who have been through it to down to, like, someone joining late in the season. I was like, 'Been there, let me talk you through this,' because it's a really scary thing to bring someone new. Like if you don't have that connection, I would say, 'Don't do it.' But if there's any sort of spark there, this is your journey. This is your time to explore every relationship that you can," Tayshia told the outlet.
For her part, Katie has admitted that she and Blake did have some conversations before she was cast as "The Bachelorette" leading lady. However, she says she was surprised to see him show up on her season.