The Real Meaning Behind Chrissy Teigen's New Tattoo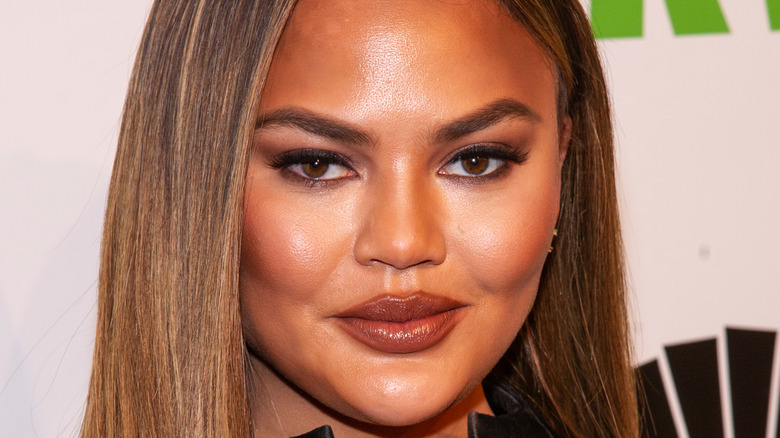 Shutterstock
Chrissy Teigen has recently come under fire after some of her old, cruel tweets resurfaced (via BuzzFeed). Reality star Courtney Stodden accused Teigen of bullying her and revealed a slew of screenshots that show the multi-hyphenate harassing Stodden on Twitter about 10 years ago. In response to the situation, Teigen publicly apologized to Stodden and subsequently took a month-long break from social media. On June 14, Teigen released a formal apology on the website Medium. The 35-year-old's lengthy post addressed her "old awful (awful, awful), tweets" and shared that she is working on herself and intends to privately apologize to everyone she's insulted.
Later that same day, the mother of two shared a more heartwarming life update. She revealed on Instagram that her oldest child, Luna, had just graduated from preschool. In a sweet post discussing the events of the day, Teigen revealed that the beautiful event resulted in some new ink for the influencer.
Chrissy Teigen's daughter Luna inspired her latest ink
Chrissy Teigen showed her 34.9 million Instagram followers a black-and-white photo of her newest tattoo. She explained that the butterfly design was drawn by her daughter on the day of her graduation. Reflecting on the event, Teigen wrote, "I sobbed from beginning to end, breaking for laughter only when john's much-anticipated-by-him commencement speech welcomed them to the workforce and listed the 5 p's as pizza, peanut butter, petey, penny, and parents."
Teigen later explained that Luna drew the butterfly directly on her arm and that she wanted to make it permanent. She wrote, "I wanted @winterstone to move and center it, due to issues I also discuss in therapy, but in the end, we decided to leave it right where she belonged. A little imperfect, a little messy, but hell she's here to stay." Teigen concluded her emotional post with a nod to her new attitude on life. She wrote, "Anyhoo, love you, love you, love you. Here's to the messes in progress."