Vladimir Putin's Response To An American Reporter Is Turning Heads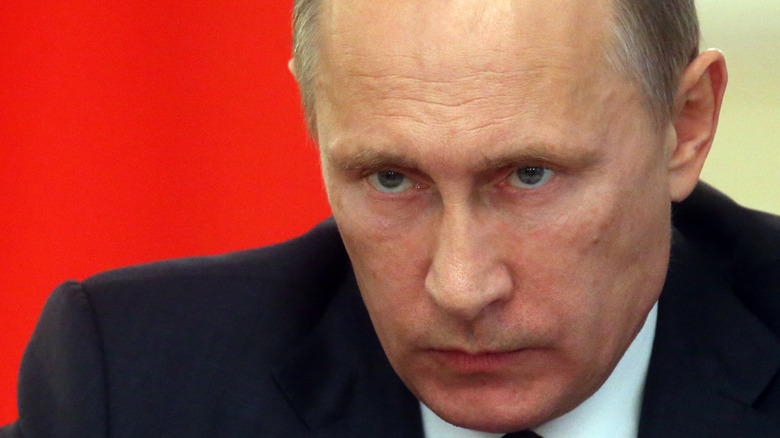 Sasha Mordovets/Getty Images
It's ABC congressional correspondent Rachel Scott's first presidential foreign trip. And although she recently posted on Instagram that she was "grateful to be here & learn from the best team in the game," it' really feels like she's just given all her fellow reporters a Master Class in how to be a force of nature. Yesterday, the Southern California native (via ABC News) was in Brussels, Belgium, covering the NATO and EU Summits. Today, June 16, she was in Geneva, Switzerland asking Russian President Vladimir Putin questions that have the Twitterverse speaking her name like she were the Beyoncé of journalism.
The exchange, quickly captured on social media, went down like this. "The list of your political opponents who are dead, imprisoned, or jailed is long," Scott began. "So my question is, Mr. President: what are you so afraid of?" Instead of answering, Putin rambled on about "so-called foreign agents" and "the unauthorized opposition" (via Twitter). Scott didn't back down. "You didn't answer my question, sir," she followed up. "If all of your political opponents are dead, in prison, poisoned, doesn't that send a message that you do not want a fair political fight?"
Twitter reacts to Rachel Scott's questions, and Putin's answers to them
Vladimir Putin didn't answer Scott's follow-up. Instead, the Russian president redirected the critique, questioning the legality of arrests in the wake of the January 6 Capitol insurrection — attacks, btw, which  Rachel Scott personally covered (via ABC). Listen to the back and forth on Twitter. Did you notice that Putin didn't even bother denying Scott's allegations? The social media platform did. 
Anyways, it turns out that Scott's unflinching tenacity is exactly the heroism that Twitter's been craving. "RACHEL. SCOTT. You're gonna wanna remember that name," tweeted an impressed reporter. "Loved her no b.s. attitude. Refreshing to see a journalist not pulling any punches," tweeted another Rachel Scott fan. "Rachel Scott early contender for person of the week," cheered a third (via Twitter). "And this is why she's trending NATIONALLY. Rachel Scott is a FORCE," tweeted a fourth. 
President Joe Biden's highly-anticipated meeting with President Putin in Geneva wrapped up his eight-day tour (via BBC). Members of the quickly-growing Rachel Scott fan club can continue to follow and tweet about her, however, as she appears on "Good Morning America," "World News Tonight with David Muir," "Nightline," "20/20," and "This Week with George Stephanopoulos."