Here's How Many Grandchildren Jane Fonda Has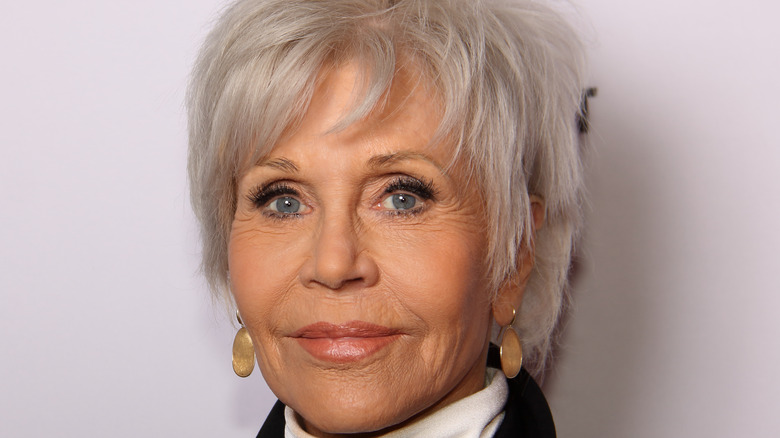 Shutterstock
When Jane Fonda isn't busy acting or doting on her grandchildren, she can often be found championing important causes and continuing her roots in activism. As a young actress in the late '60s/early '70s, she was known for her vocal opposition to the Vietnam War as well as support for women's rights (via Green Matters) and strove to make a difference by using her platform to elevate the voices of those who weren't being heard. Recently, she showed her support for Native American rights by protesting oil pipelines running through their lands at Standing Rock in the Dakotas and in Minnesota.
Described by her "Grace and Frankie" co-star Lily Tomlin as someone who "always looks for the most important current issue to deal with," Fonda wonders why anyone wouldn't spend their time focusing on something that isn't important. "There's no question that of all the things that I have ever focused on there's nothing more existential than climate change," she told Boston radio station WBUR.
Fonda's life-long activism has inspired many people across the globe — including her grandchildren, who are most certainly following in Fonda's footsteps.
Jane Fonda is a very 'proud grandma' of her two grandchildren
Through her daughter, Vanessa Vadim, whom she had with her first husband, French director Roger Vadim, Jane Fonda has two grandchildren — Malcom and Viva. For a time, the actress was posting about her adventures as a grandmother on her official blog. But in 2019, she demonstrated just how much her activism gene had bounced to the next Fonda generation.
Both Malcolm and Viva joined their grandma to protest climate change in support of her organization, "Fire Drill Fridays." For three weeks in a row, Fonda was arrested while participating in protests outside the Capitol Building (via BBC News), and so were her grandchildren. According to CBS News, she and dozens of other protesters were arrested and charged "with crowding, obstructing or incommoding."
Fonda would later take to social media to sing praises of her grandkids, meeting her eldest outside of jail. "Greeting my grandson just released after @firedrillfriday arrest for civil disobedience. Proud grandma," she wrote in one post (via Instagram). In another, she posed for a proud selfie with her granddaughter (via Instagram).