Here's What We Know About Alex Rodriguez's Makeup Company
Shutterstock
For the past few months, Alex Rodriguez has been making headlines for his tumultuous split with Jennifer Lopez, as well as his reaction to Lopez's reunion with Ben Affleck. However, this time around, the former MLB star is all over the news for his unexpected partnership with wellness company Hims & Hers (via Page Six). Rodriguez is an avid user of the brand and believes in Hims & Hers commitment to spreading the message that self-care is a necessity, not a luxury. He said, "Self-care is something that everyone deserves and these products are both incredibly easy to use and affordable," (via For Hers).
After investing in the wellness company with Lopez in 2019, he is finally releasing the first product from the brand's makeup for men line (via Page Six). Rodriguez became involved in this project because he noticed there were not a lot of makeup options available for men (via Hims & Hers). For the duo's first collaboration, Hims & Hers released The Blur Stick.
The Blur Stick from Alex Rodriguez's collaboration was designed with men in mind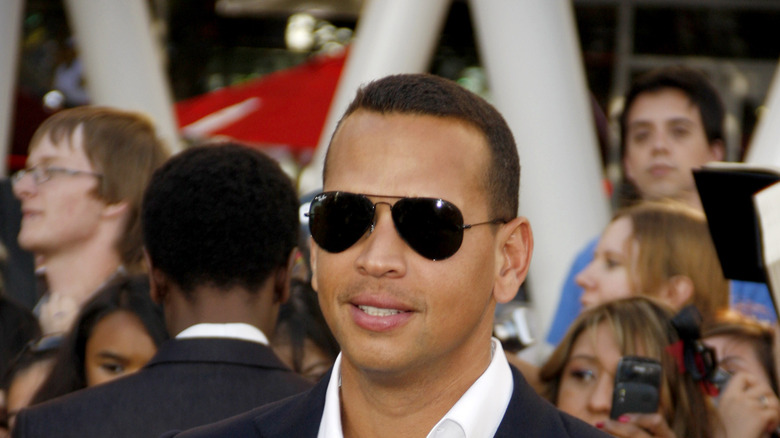 Shutterstock
The Blur Stick, the first product released as a part of Alex Rodriguez's partnerships with Hims & Hers, is a concealer specifically designed for men to camouflage and conceal acne, wrinkles, dark eye circles, and more. The product comes in eight different shades and is packaged in a tiny silver tube (via Hims & Hers). The product is intended to be applied with just your fingers and is buildable. The key ingredients in The Blur Stick are aloe extract, dog-rose oil, and jojoba seed oil, which helps moisturize the skin.
While promoting the product on Instagram, Rodriguez said, "I wanted to create a product that solved an issue I faced every day. I realized as I was jumping from meeting to meeting, I needed something quick and easy in my routine to conceal blemishes or razor bumps." He added, "Check it out, I think you'll be surprised how often it comes in handy." The Blur Stick cost $17 dollars and is currently available on the official Hims & Hers website.