Here's What Alex Rodriguez Has To Say About Jennifer Lopez And Ben Affleck's Reunion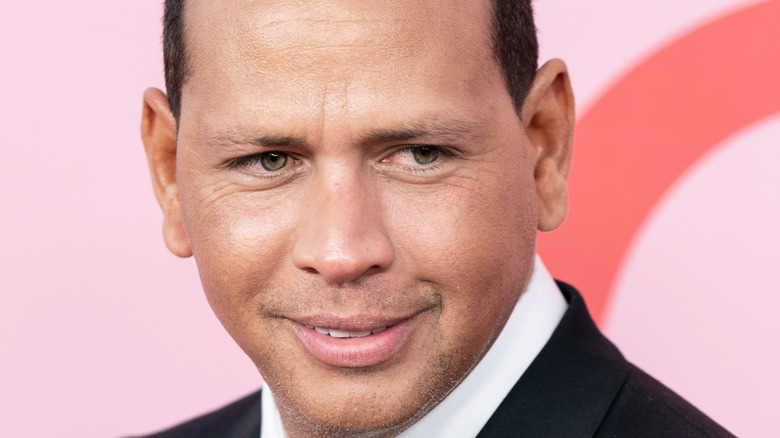 Shutterstock
Jennifer Lopez and Ben Affleck have shocked fans with their recent reunion, and possibly Lopez's former fiancé, Alex Rodriguez as well. Lopez and Rodriguez began dating in 2017 (via People). The duo immediately became a Hollywood golden couple. Rodriguez popped the question during a romantic beach vacation two years later (via Page Six). Lopez happily said yes, but the couple was forced to postpone their nuptials due to the COVID-19 pandemic (via Access Online). 
In early 2021, rumors began to circulate that Lopez and Rodriguez were on the rocks. The couple confirmed that they were working through issues but debunked rumors of a split, per TMZ. Sadly, by April the couple announced that they had called off their engagement.
Just days following her split with Rodriguez, Lopez was spotted spending time with her former boyfriend, Affleck. While they haven't officially confirmed they are getting back together, Page Six reports that the pair were hanging at J.Lo's home, and that security would pick up the "Good Will Hunting" actor in a white SUV and drive him to Lopez's mansion. Days later People dished that the two maybe-more-than-friends were in Montana, chilling. "They have a strong connection. It's all been quick and intense," an insider told the media outlet.  
Lopez and Affleck were first linked back in 2002, per Insider. They became a staple in the tabloids and were dubbed "Bennifer" by fans. In 2003 they announced their engagement. However, the relationship was short-lived. The couple confirmed their split in January 2004. Now, A-Rod is weighing in on their potentially rekindled relationship.
Alex Rodriguez reacts to Jennifer Lopez and Ben Affleck possibly being back together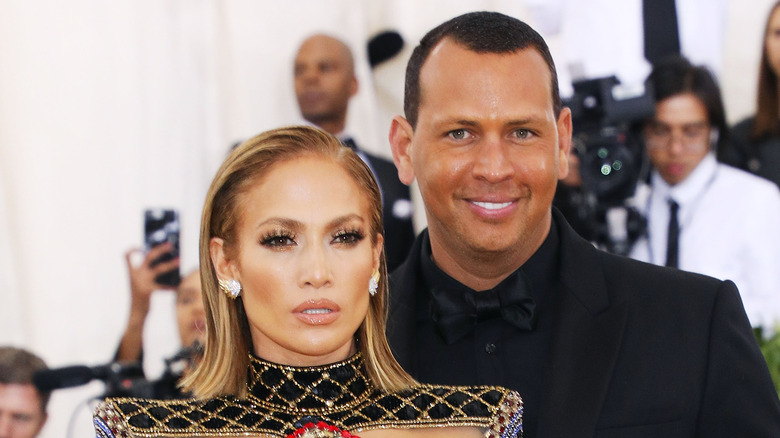 Taylor Hill/Getty Images
Rodriguez caught our attention the day of his split from J.LO when he posted a photo montage of happier times to his Instagram page accompanied by Coldplay's ballad, "Fix You" (via Vulture). Obviously, absolutely no one in the gossip column industry interpreted A-Rod's social media stunt to mean, "I'm over it." In light of recent developments, the man formerly known as one-half of "J-Rod" has fanned flames further with his snarky response to a possible (plausible?) Bennifer reunion. 
This week, Alex Rodriguez was spotted out for the first time since Jennifer Lopez and Ben Affleck returned from their weeklong Montana getaway. The former MLB star looked dapper in a gray suit as he left a Miami restaurant with a friend. Of course, the paparazzi couldn't help but ask him what his thoughts were on Lopez and Affleck spending time together (via Page Six). The athlete eventually responded "Go Yankees" before getting into a car and being driven away.
Us Weekly reports that although the statement seemingly had nothing to do with Lopez and Affleck's relationship, there could be some hidden shade behind the comment. As many fans know, Rodriguez formerly played for the New York Yankees and continues to support the team to this day. Affleck, on the other hand, is a diehard Boston Red Sox fan. The Yankees and Red Sox are bitter competitors on the baseball diamond, a rivalry known as one of the most intense in professional sports. 
How does A-Rod really feel about Bennifer?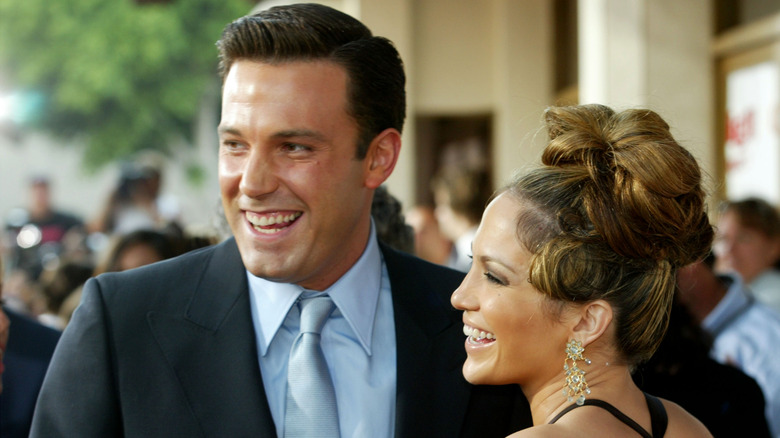 Kevin Winter/Getty Images
This isn't exactly the plot twist of the century. E! News reports that Rodriguez was hurt when he learned about Lopez and Affleck's rumored reunion. "A-Rod is shocked that J.Lo has moved on. He truly thought they would be able to make it work and reconnect. He has been reaching out to J.Lo trying to meet with her and she has been very short with him," sources tell the outlet. According to an insider, A-Rod communicated his disappointment directly to Lopez, who remains unphased. 
The media speculations into Alex Rodriguez's post-breakup emotional journey come amid further revelations that Jennifer Lynn Lopez and Benjamin Géza Affleck-Boldt were (maybe) communicating via email while J-Rod was still officially an item. TMZ reported that the two have been writing to each other since February. According to the outlet, Affleck wrote about how stunning Lopez looked in pictures from the Dominican Republic. J.LO (per an inside source) wrote back about how Affleck could "own her heart" with his writing. If the reports are true, the two have been flirtatious for months, which puts their presumably romantic Montana get-away into perspective. 
The rumors must be close to catastrophic for A-Rod assuming that he truly is nursing his wounds. But, if his Coldplay montage wasn't enough to clue you in, the former baseball star is stubborn. An insider recently told US Weekly that "Alex was jealous that Jen and Ben were seeing each other [but] he's still holding out hope they can reconcile."