The Best Jewelry For A Rectangular Face Shape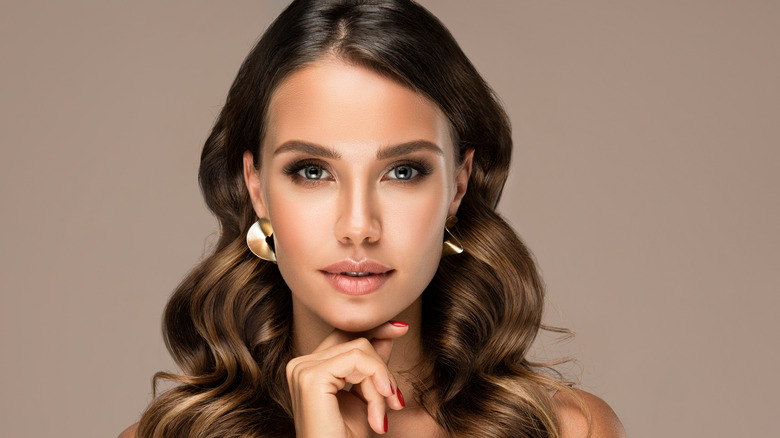 Shutterstock
They do say diamonds are a girl's best friend, but whether you're opting for precious gemstones or something fun and trendy, your jewelry should suit your face shape. Even if you've never thought of matching your jewelry to your bone structure, you'll become a firm believer — the right silhouettes will emphasize all your best attributes. For one, square faces can benefit from rounded, lengthening styles like hoop earrings, while longer oval faces look great in shorter chokers and princess necklaces. Similarly, rectangle faces have a whole arsenal of jewelry that flatters and minimizes in all the most gorgeous ways. If you identify with face shapes like Angelina Jolie's and Olivia Wilde's, this one's for you!
As per Artisan and Fox, a "rectangular face is longer than it is wide," making it similar to an oval. That being said, it has a stronger bone structure like square shapes, with the width of the forehead, cheekbones, and chin totaling about the same. A delicate yet powerful face shape, rectangles look best in styles that soften the face, while creating the illusion of a shorter length. While that sounds like a mean feat, it actually just involves fastening a pair of earrings or putting on a necklace — seriously.
Here are all the best jewelry styles for rectangular faces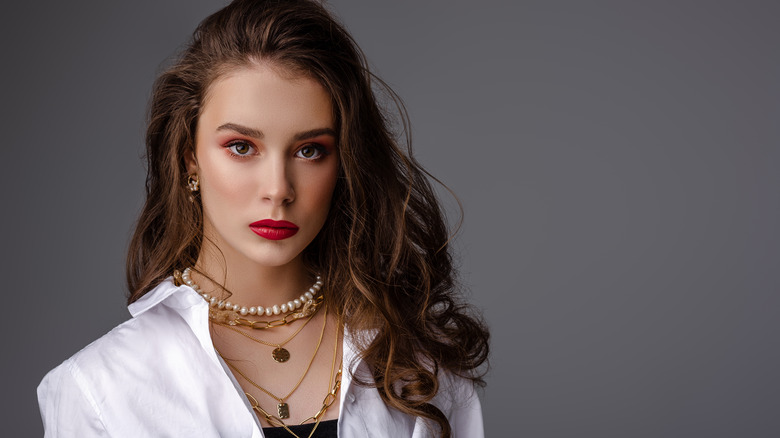 Shutterstock
For earrings, Jen Bradley Moms recommended round earrings that will add curves and width to the face. Look for round studs, short cluster earrings, or small huggie-style hoops. Artisan and Fox even recommended taking the plunge and going for "large, bold styles" that will add width to your facial structure. Fire Mountain Gems agrees — try large post styles or wide chandeliers with "color, movement, and drama." You'll look great in any earrings with curves, or any wide design.
Now that earrings are out of the way, necklaces should be equally curvy. According to Jen Bradley Moms, rectangular faces look amazing in necklaces with round beads or pendants, such as pearls, or styles that keep a circular shape around the neck. As per Fire Mountain Gems, you'll look picture-perfect in statement necklaces with large beads. For length, remember to keep it short. Artisan and Fox suggested chokers, collars, or princess lengths that reduce the look of a longer face.
So what jewelry looks should rectangular faces avoid? As per Jen Bradley Moms, say goodbye to square earrings that will make the face look severe, as well as long and thin earring styles. For necklaces, the outlet recommended steering clear of long drop necklaces, which will only bring the face down.