The Richest Chef In The World Might Surprise You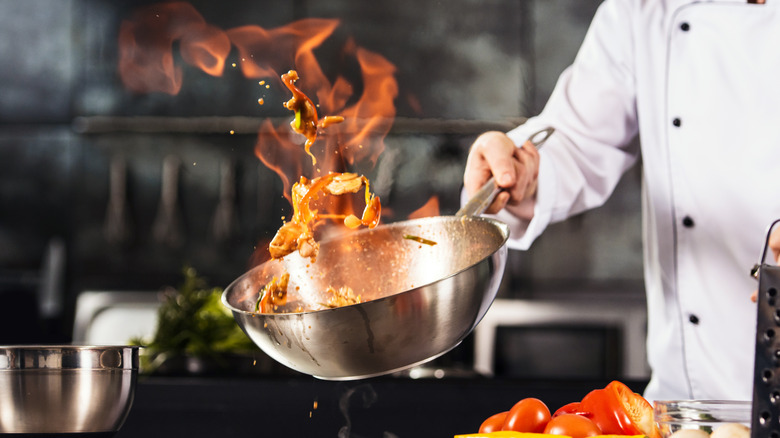 Shutterstock
Cooking shows are soaring and TV Insider claims that, combined with competition and travel, we are now in a "new golden age of cooking and food shows." This popular TV genre gives viewers a behind-the-scenes view of master chefs across the globe, and a better look at popular celebrity chefs who are also authors and entrepreneurs. 
From the controversial Paula Deen and Gordon Ramsey, to the sexy Giada De Laurentiis and JJ Johnson, there is no lack of entertainment when it comes to the culinary creators. Although you may salivate over some more than others, thinking your favorite is by far the most successful, you may be quite surprised to learn who the wealthiest chef actually is.
Jetset Magazine reports that Alan Wong, known as the godfather of modern Hawaiian cuisine, is the richest chef in the world. His actual net worth, however, is unknown, as Jetset reports the famous chef is commonly confused with billionaire Allan Wong of VTECH. Regardless of the net worth confusion, Chef Wong is reported by multiple publications, including Jetset and Wealthy Genius, to be the highest paid chef worldwide.
Alan Wong has had many successes
Alan Wong, although not confirmed, is reported to be worth upwards of $1.1 billion dollars and has made his fortune through various outlets. According to Wealthy Genius, the chef has owned multiple restaurants, including "Alan Wong's King Street" and "Pineapple Room," both located in Oahu, Hawaii, and a third, "Alan Wong's Shanghai," in Shanghai, China.
Jetset Magazine disputes the $1.1 billion net worth for Alan Wong, but still includes him on their list of the five richest chefs in the world — even without being certain of his exact worth. The outlet reports he began his career in the 1980s, and has continued to rise in success with notable accolades, including becoming the ambassador for Hawaiian regional cuisine and cooking for former President Barack Obama. 
According to The Richest, in 1996, Wong was the recipient of the James Beard Award for Best Chef in the Pacific Northwest, and in 2001, he took Chef of the Year honors by Sante Magazine for Wine and Spirits. He has also written two cookbooks and in 2013, he became the first chef from Hawaii to be inducted into the American Academy of Chefs Culinary Hall of Fame. 
Wong may not be a TV star, famous author, or even have his own cookware line, but he certainly seems to make money like he does all three. Unfortunately, the popular chef has decided to close his restaurants in light of the problems surrounding the pandemic, but according to his website, he does "look forward to reconnecting in a better time."