The Drugstore Foundation That Celebrity Makeup Artists Swear By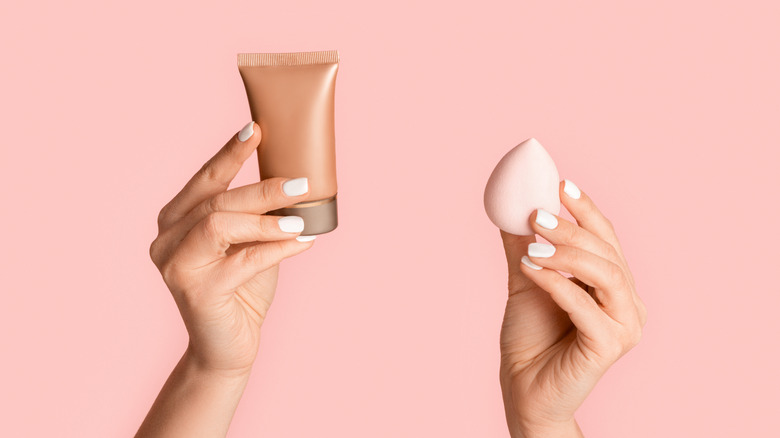 Shutterstock
If you wear makeup, you know that finding the proper foundation is a difficult task (via Glamour). There are so many different brands, shades, and finishes from which you can choose, and sometimes it gets overwhelming. Even if you go to a makeup counter to get matched, sometimes when you get home, it doesn't look the same, or if you get any sun, your complexion changes. If this sounds like you, Glamour suggests mixing products to basically create the right shade.
Because of how tough it is to find the right shade, though, it makes sense that you might be wary of trying a drugstore foundation brand since you probably can't try it on your skin before you purchase it and take it home. However, Byrdie spoke with several celebrity makeup artists, and there's at least one drugstore foundation that these professionals swear by, and it won't break the bank if you decide to try it, too. 
Here's why you should try L'Oréal Infallible Pro-Matte 24HR Foundation
The drugstore foundation that makeup artists Nikkia Joy and Zachary Edward Hill recommended to Byrdie is L'Oréal Infallible Pro-Matte 24HR Foundation. According to the professionals, this product blends well, and it actually does what it promises — keeps your skin matte all day long, even if you take it from daytime into an evening out. The foundation from L'Oréal Paris comes in 22 different shades, so you have a good chance of matching your skin tone. It also costs under $13, and you can find it at your local drugstore or discount retailer. Another positive is that the L'Oréal website offers you the option to digitally try it with a photo or live view from your webcam.
Per a Bellatory review of the product, the L'Oréal Infallible foundation blends well and provides an excellent smooth finish without being cakey. If you need a new foundation, or you find yourself needing one in a pinch, this easy-to-find and affordable drugstore brand might be the one for you — especially if you're looking for a matte finish instead of a dewy look.