Arie Luyendyk Jr. And Lauren Burnham Finally Reveal Their Newborn Daughter's Name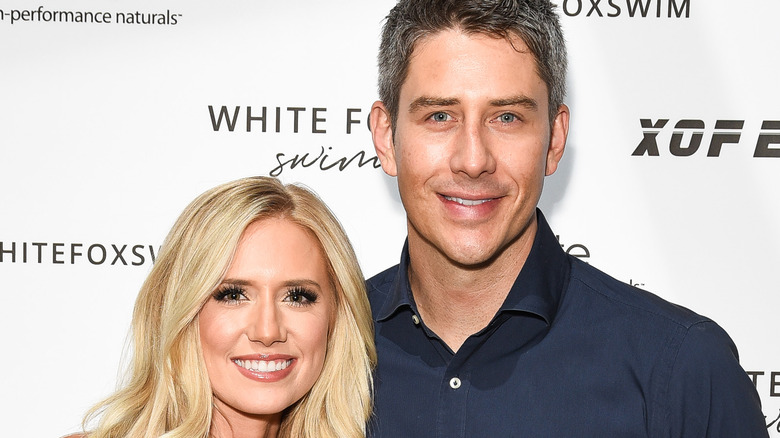 Presley Ann/Getty Images
"The Bachelor"'s Arie Luyendyk Jr. and Lauren Burnham have kept fans guessing as to their newborn daughter's name — until now. First, the couple shared that their twins had arrived. Then, the new parents of three — they also share 2-year-old daughter Alessi — updated fans about the babies' health, sharing that their son, Lux, was healthy enough to come home from the hospital. Sadly, his twin sister stayed at the hospital, with Burnham posting via her Instagram Story, ""i've never felt heartbreak like this. pls say prayers for our girl."
A few days later, Burnham posted a precious pic of the twins to Instagram, writing, "happy first week of life to my sweet babies. looking forward to double the diapers, double the feedings, double the snuggles. can't wait to have you both home."
Right before Father's Day, happily, Lux's twin sister was finally able to come home (via People). And, the reality star parents also gave fans what they had been waiting for by sharing her name.
Arie Luyendyk Jr. and Lauren Burnham share both babies' full names with fans
In a new post to Instagram, Burnham shared an adorable image of the twins dressed in matching white outfits. She captioned the photo with the twins' monikers: "senna james + lux jacob." According to Nameberry, Senna means "brightness," and is of Arabic origin. It's also a flowering bush. Meanwhile, Lux means "light" and can be used for a boy or girl, according to Nameberry.
Over on Luyendyk's Instagram, the former "Bachelor" posted a too-cute image of himself holding his twins. His caption was equally sweet, with the new dad writing, "Best early Father's Day gift, our baby girl is home! Lauren surprised me this morning when she came home from the hospital with her." His reel of images also included the sweetest closeup of baby Senna's face.
"Bachelor Nation" members quickly flooded the comments section to wish Luyendyk a happy Father's Day, and share their congratulations that the family of five was finally reunited, with Chris Harrison, Tenley Molzahn, and Jade Roper among the well wishers. Bekah Martinez also commented about her son, "they are so precious!! Franklin and Senna share a middle name."