Has Khloé Kardashian Really Forgiven Jordyn Woods?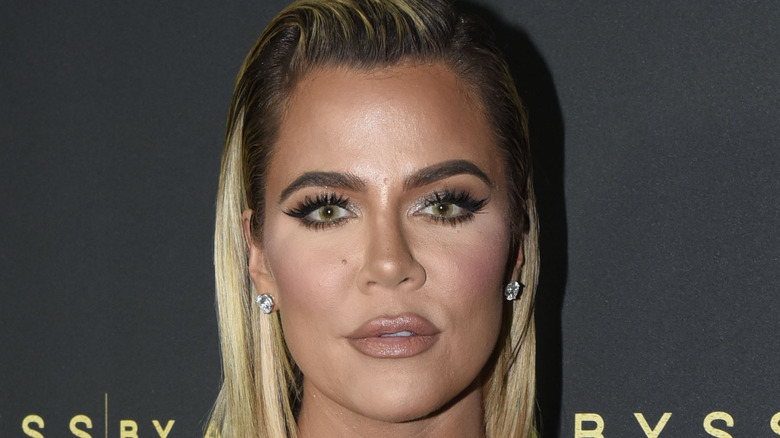 Vivien Killilea/Getty Images
Khloé Kardashian and longtime Kardashian family friend Jordyn Woods had a major falling out a few years ago when Jordyn and Khloé's on-again, off-again partner, Tristan Thompson, were caught making out. Woods explained her version of the story in 2019 on the "Red Table Talk" with Jada Pinkett Smith, and clarified the steps that led up to her interaction with the basketball player.
"In L.A. culture, when you're young, you go to the bar or club and it ends early, you go to a house after. I was like, 'Cool, that's okay.' It feels like a safe environment. I'd rather it be his house than a stranger," Woods said, via Refinery29.
While Woods and Thompson were captured sitting close together, she denied the tabloid headlines that suggested more happened. "Never once was I giving him a lap dance. Making out with him. Sitting all over him. We're all together, in a group. Never once did we leave the public area to go to a bedroom or bathroom. We're all in plain sight," she said, via Refinery29. At the end of the night, Woods claimed Thompson kissed her, and she left "in a daze."  
Things between Jordyn Woods and the Kardashians haven't been the same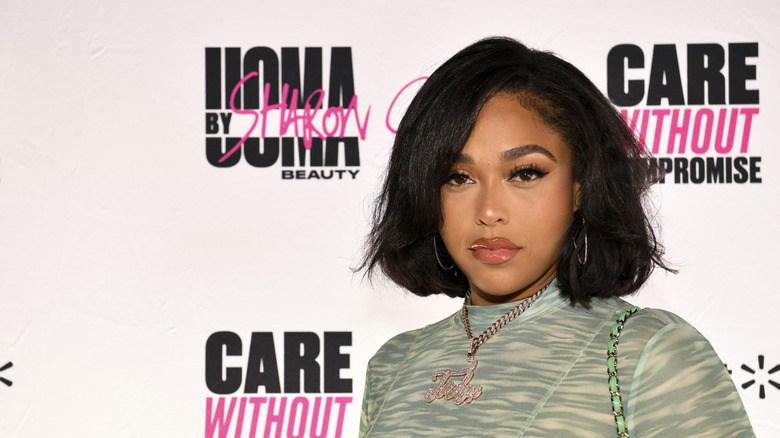 Rodin Eckenroth/Getty Images
Jordyn Woods is hardly the first women Tristan Thompson has been accused of cheating on Khloé Kardashian with, but her proximity to the Kardashian family seems to have been the reason why the Kardashian sisters are especially cold toward her. Prior to the incident, Woods had been a close friend of Kylie Jenner for years, and the loss of that support system was likely jarring for her. 
The Kardashian-Jenner family recently ended up their reality series, "Keeping Up With the Kardashians," and sat down with host Andy Cohen for a reunion special, "Keeping Up With the Kardashians: The Final Curtain," where they addressed a number of events that transpired throughout the filming of the show. Of course, Jordyn Woods came up.
Khloé spoke first and directly addressed a long-standing source of confusion for fans: she clarified that she has forgiven both Thompson and Woods for what happened. "I don't have any grudge against Jordyn. I think people make mistakes, people live and they learn," she said (via Page Six).
Where do Kylie Jenner and Jordyn Woods stand?
Khloé Kardashian also Andy Cohen during the reunion special, "Keeping Up With the Kardashians: The Final Curtain," that while she has forgiven Tristan Thompson and Jordyn Woods, she can't make them make better choices in the future. That lesson is likely extra pressing, as she's reportedly contemplating having a second child with Thompson. "I have to forgive these people for me, and it's up to them to forgive themselves and be accountable and learn and hopefully don't repeat these same cycles," she said (via Page Six).
Luckily, Kardashian has her family to rely on and hold her steady. "My sisters matter way more to me than any grudge or issue that I would have with another individual," she said. "And, if I can allow Tristan back into my life, I need to allow the same forgiveness and acceptance of other people." 
Her younger sister, Kylie Jenner, isn't in quite the same head space. She told Cohen, "When we were friends, we never thought that we wouldn't be friends, it was kind of an overnight thing. When she did something to my family, it felt like she did something to me," Jenner said (via Page Six). Looks like we might not see a Jenner/Woods reunion any time soon.