The Universally Flattering Dress That's Blowing Up On TikTok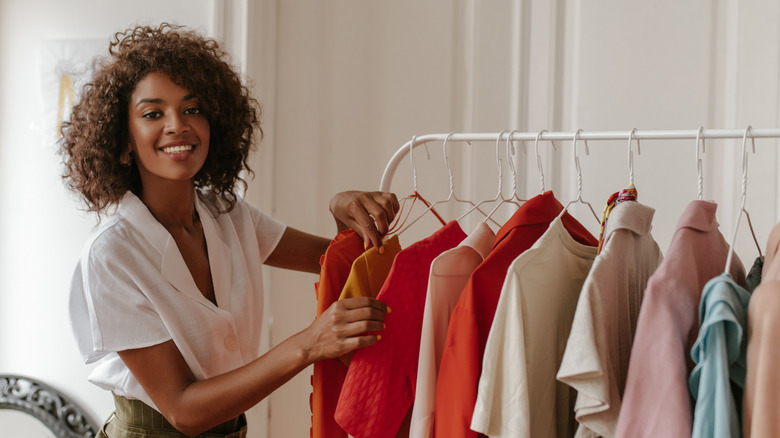 Shutterstock
TikTok is not just the place to find dance trends and viral recipes. It's also where you can find makeup tips and closet hacks. If you've somehow found yourself on the beauty and style side of TikTok, you've come across a few fashion trends here and there. Like, do you remember the infamous strawberry dress that epitomized the Cottagecore aesthetic? The designer pink dress embellished with strawberries by Lirika Matoshi looked amazing on anyone willing to spend the $490 (via The New York Times).
Then, there was the TikTok leggings all over your FYP that claimed to make everyone's butt look amazing (via Today). The Seasum Women's High Waist Yoga Pants featured a honeycomb pattern that really accentuated the backside of anyone who wore them. Of course, it wouldn't be a TikTok fashion trends discussion without bringing up matching tie-dye sets, which took over in 2020 (via Insider). Even some of the biggest TikTok creators like Charli D'Amelio and Addison Rae were sporting cute and cozy casual tie-dye sets in their videos, according to Seventeen. So, you might be wondering about the latest viral fashion trend that everyone is talking about. 
The With Jéan Alexa Dress can be seen all over TikTok
Well, it seems there is one TikTok dress that is universally flattering and it's a must-add to your closet this summer. According to PopSugar, the With Jéan Alexa Dress is the "unofficial dress of TikTok." The short sleeve, ruched-waist dress reportedly looks amazing on every body, like it has the same magic abilities as the pants in the "Sisterhood of the Traveling Pants."  
The dress may be a bit pricey at $239, but it's worth it for how amazing you'll feel while wearing it. You can wear it to a backyard barbecue with your besties or out to brunch with your roomies, and you'll feel absolutely fire the whole time. However, if you are tall, the dress may be a bit short, according to TikToker @raeannlangas. While the With Jéan dress did look amazing on Raeann, she did think it was too short to wear out. 
TikToker @kelsey_kotzur also thought the dress was a bit short, but with some Spanx could work. So, if you're also willing to work with the universally flattering TikTok dress, you could also have your very own "hot girl summer."