The Hair Care Brand That Jennifer Lopez's Stylist Swears By
If there is one celeb we want hair care tips from, it's the stunning Jennifer Lopez. Jenny From the Block has incredible style, timeless beauty, and what appears to be a body that doesn't age, so of course we want to know all her secrets! At almost 52 years old, it's safe to say that Lopez has the experience of knowing which beauty brands work, so when we hear about a product she uses, we really listen.
One always noticeable thing about JLo, if we had to pick one thing of her many fabulous attributes, would be her hair — it is always on point. Whether she is wearing it slicked back in a classic pony, left down and wild showing off her curls, gorgeously blown out, or even when she's wearing that famous messy bun, the singer-actor's hair is a masterpiece in any style. No doubt, many wedding and prom hairstyles have been inspired by a look from JLo.
Hair care with satisfying results and a signature scent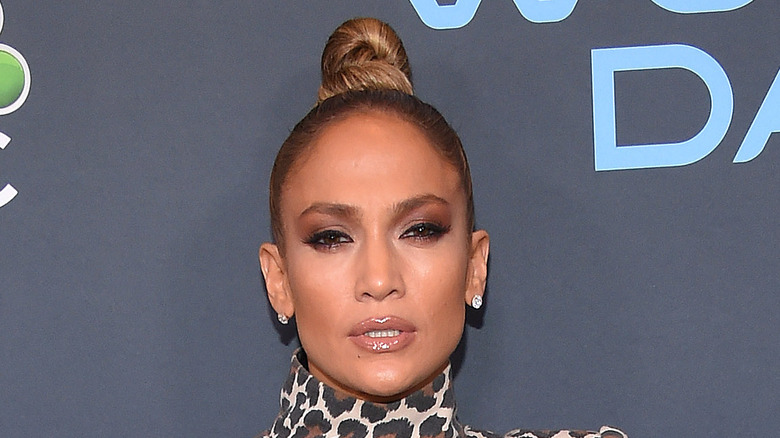 Shutterstock
The celebs stylists are sticklers for beauty products they come across that offer exceptional results. A leave-in conditioner, a curl cream, or even a color-enhancing product can mean the difference between walking the red carpet with lustrous locks or demonstrating a dull 'do. 
The Zoe Report shares one of JLo's stylists' favorite product brands, Oribe, which is called "the products of the hair-obsessed." Not only does Lopez use Oribe products, but so do some of your other favorite A-listers, like Lady Gaga, Miley Cyrus, Penelope Cruz, and Cher.  
Each Oribe hair care product is formulated with a signature scent called Cote d'Azur, which, according to their website, was "created by one of the oldest French fragrance houses." The scent includes notes of Calabrian bergamot, white butterfly jasmine, and sandalwood. As expected, the brand is relatively expensive, with some hair products costing $182 (though there are travel-sized options for just $15).