Katie Flood Reveals What It Was Like To Take Over For Hannah Ferrier On Below Deck Med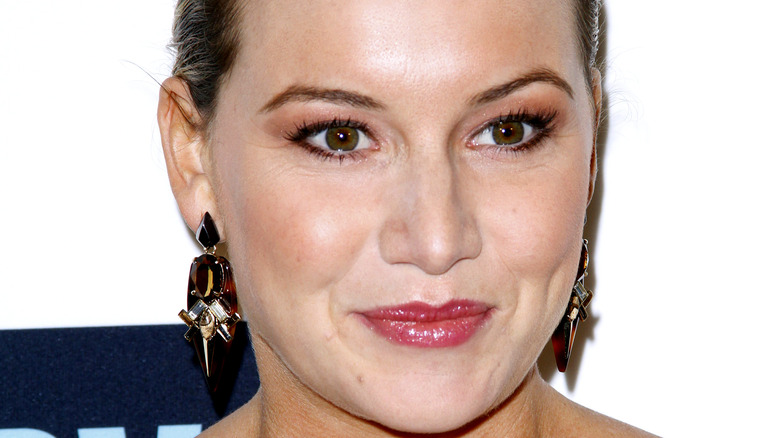 Donna Ward/Getty Images
Fans of the hit Bravo series "Below Deck Mediterranean" knowing that the season six premiere is right around the corner (via Bravo). Like its predecessors, this season will follow Captain Sandy Yawn and her crew as they board the 180-foot yacht "Lady Michelle", where they live and work during charter season. While it's always exciting to see just how the crew takes care of the wealthy guests that board the yacht, the most entertaining aspect of "Below Deck" is observing the dynamic between the workers. This season features some staff changes after the longtime chief stewardess Hannah Ferreir was fired during season 5 over unregistered Valium and a vape pen (via People).
Ferrier's departure from the series left room for another stewardess to shine. Newcomer Katie Flood has been tapped to become the latest chief stew on the "Lady Michelle" (via The Sun). Flood is a New Zealand native with over six years of yachting experience. In an interview with E!, Flood revealed what it's like stepping into her new role.
Katie Flood is up to the challenge
Just before the season 6 premiere of "Below Deck Mediterranean" new chief stewardess Katie Flood told E! that she believes that most of the viewers will appreciate the staff change. She said, "Being a chief stew, OK, we all know the job. But every one of us have a different way of doing it or bring different strengths to the table. So, I just think it will be refreshing for the viewers, maybe." While she also acknowledged some fans may be upset about Hannah Ferrier's absence, Flood notes that the situation "worked out good" because new mom Ferrier's "in a completely different stage of life now."
Flood also shared that her casting on the show was fate. She explained, "This opportunity sort of fell in my lap at the right time, and all signs pointed towards me doing this. So, I just went with my gut and here we are." While she's excited about her new job, the season six trailer already revealed that Flood's time on the "Lady Michelle" was anything but smooth sailing. Flood told E!,"I am a human. I do have emotions. Things do affect me. You know, there's so much pressure in this role, and then it's like, you add the lack of sleep, the demanding guests, the drinking, like, all this stuff. It sort of boils up, and that's when you have these emotional moments."