All The Personal Details In Prince Philip's Final Portrait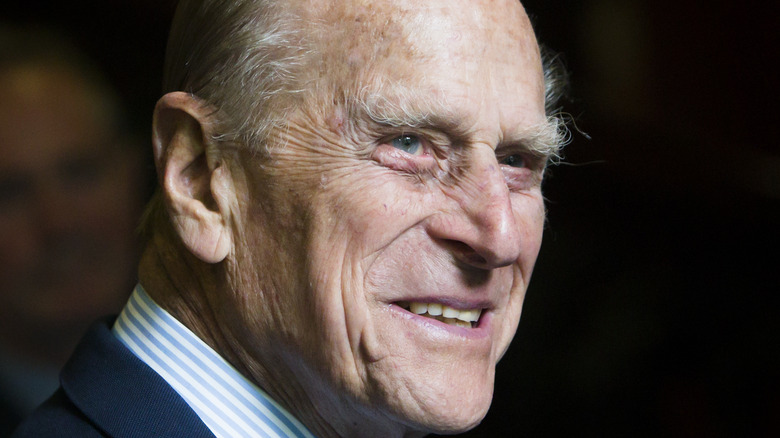 Wpa Pool/Getty Images
It's been almost three months since the death of Prince Philip on April 9, 2021. The Duke of Edinburgh was the beloved husband of Queen Elizabeth and was the longest-serving royal consort [the spouse of a reigning monarch] in British history, according to the BBC. It was reported by The Mirror that the most recent addition to the royal family was even named in honor of Prince Philip. It was widely reported that Prince Harry and Meghan Markle named their daughter Lilibet Diana Mountbatten-Windsor in honor of the queen and Harry's late mother, Princess Diana. However, Diana's voice coach, Stewart Pearce, believes that the name Lilibet was also a nod to her great-grandfather. 
According to Pearce, Lilibet was Prince Philip's pet name for his wife, the queen. Therefore, the name can also be attributed to the duke. "There is no doubt that the influence Prince Philip had over his grandson will live on in the heart of Harry," said Pearce (via The Mirror). And that is not the only way the Duke of Edinburgh is being honored lately. 
The painting features a nod to Philip's mother and grandmother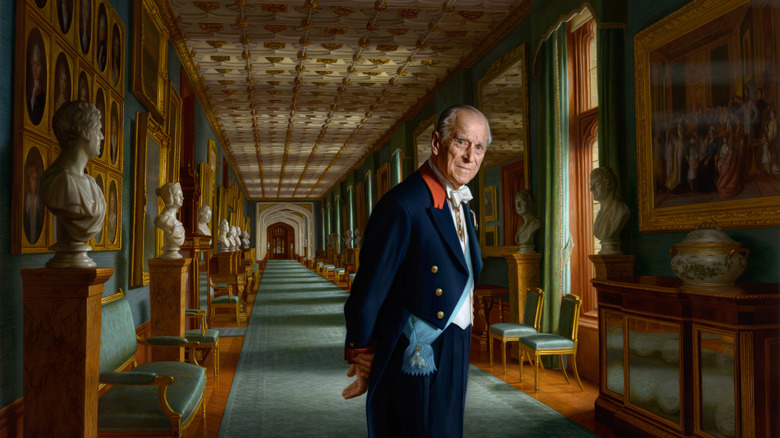 Handout/Getty Images
According to the BBC, there is a new exhibition at Windsor Castle that celebrates the life of the late Duke of Edinburgh. "Prince Philip: A Celebration," which runs till September, will also feature Prince Philip's final formal portrait, according to People. 
The painting was done by Ralph Heimans back in 2017 and includes a sweet nod to his mother, Princess Alice, and maternal grandmother, Princess Victoria. In the formal portrait, Philip is standing in one of the corridors of Windsor Castle. At the end of the hall is the Tapestry Room, which is where both his mother and grandmother were born. According to Royal Central, in the painting, it looks as if the Duke is about to walk down the corridor to the Tapestry Room, which signifies he is "going home." 
The painting was done when Philip retired from royal duties in 2017, and at the time, Heimans said he hoped it caught the "prince's spirit." Now, the painting, with its extra meaningful backstory, is on display for anyone who wishes to pay their respects to the late Prince Philip.