The Real Reason Rafael Nadal Won't Be Competing At Wimbledon 2021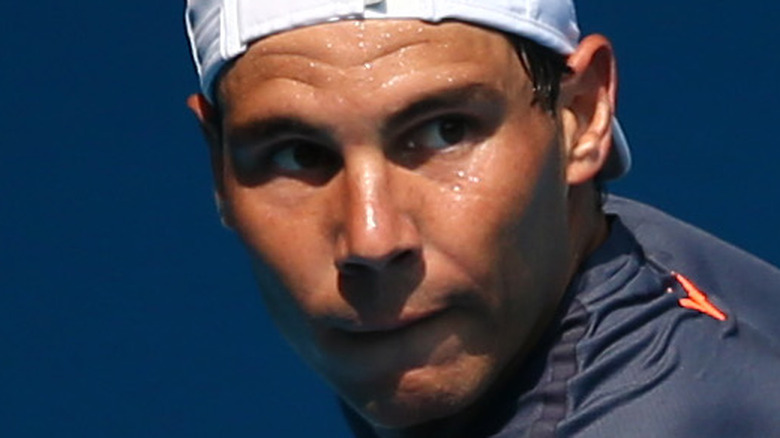 Mike Owen/Getty Images
The world was shocked when Rafael Nadal competed against Novak Djokovic at Roland Garros and lost, making Djokovic the only player to win against Nadal in a Paris semifinal (via Yahoo! Sport). The tennis match, which occurred in June 2021, served as a big loss for Nadal, proving that being an impressive 20-time major champion doesn't guarantee a win. But it wasn't just the pain of losing that Nadal has been navigating – it's the effect that the intense games have been having on his body.
According to Tennis Majors, one of the reasons that Nadal might not have been playing his best against Djokovic is because he is believed to have had a serious foot injury. 
"He was a little bit physically affected at the end," said tournament director Guy Forget. "It was more a little pain in the foot. He had, again, the class not to talk about it at all." After his loss to Djokovic, Nadal didn't give any details as to what we could expect from him next, only revealing that he plans to "rest, first physically, then mentally, and then I'll see."
Well, it would appear that Nadal has officially made up his mind as to what comes next, as it might come as a huge disappointment to fans.
Rafael is hoping a break will prolong his career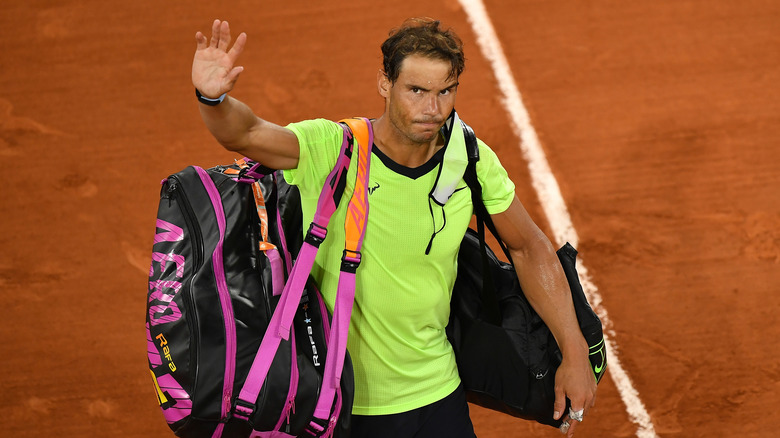 Aurelien Meunier/Getty Images
Rafael Nadal has announced that he will not be competing in Wimbledon 2021 or the upcoming Tokyo Olympics. He announced this to the public less than a week after his big loss to Novak Djokovic, suggesting that the loss and the subsequent physical pain he felt during the match have both been on the forefront of his mind (via the Washington Post). Indeed, it would appear that the main reason behind his decision comes from a concern for his physical and mental health. Nadal took to Twitter to break the news and explain his reasoning, writing, "It's never an easy decision to take but after listening to my body and discuss it with my team I understand that it is the right decision." 
But don't worry – it doesn't appear that Nadal is looking towards the end of his career. If anything, he's hoping that this decision will enable his career to be better than ever. "The goal is to prolong my career and continue to do what makes me happy, that is to compete at the highest level and keep fighting for those professional and personal goals at the maximum level of competition," he tweeted. 
Fans couldn't be more supportive of his decision, with countless comments expressing their disappointment but understanding. One Twitter user wrote, "Rafa, thank you and please do what you need to do to come back and compete again at the highest level! We need you to be healthy!"