Renovation Island's Bryan And Sarah Open Up About Their COVID-19 Experience - Exclusive
We're going to put you in Bryan and Sarah Baeumler's shoes for a second. Imagine, if you will, taking the plunge and moving to The Bahamas so you can pursue your renovation plans of a gorgeous hotel. It sounds like an absolutely massive decision to make, but you pluck up the courage, you don't overthink it, and you just go for it. Well done you. Okay, so now you're there, you've done all the repairs, hired a staff, and are set to open — what an exciting day! You're open for six weeks, life is hectic but good, and then the worst possible news hits. The world is basically shutting down, travel is halted, and you're forced to close after just a month and a half due to the coronavirus pandemic.
This was the situation that Bryan and Sarah, of HGTV's "Renovation Island," found themselves in. After spending so much time and energy on their hotel's renovation, they were forced to close, and thus had to navigate how to keep their business going (as much as they could) during a global pandemic. It was a recipe for disaster, but they powered through, filmed the second season of their hit HGTV show, and reopened their doors in November 2020.
The List sat down with Bryan and Sarah for an exclusive interview, and we asked them all the questions you're dying to know the answers to. Here's what they had to say about their COVID-19 experience.
Sarah and Bryan never imagined having to shut their doors so soon after opening their renovated hotel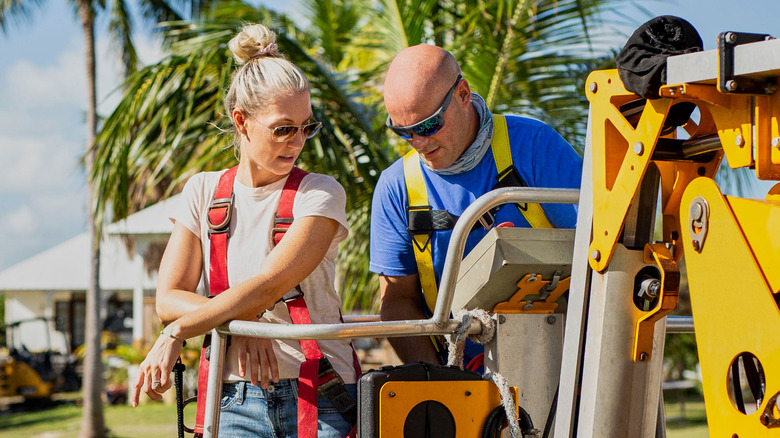 HGTV
When you pour your heart into a passion project, it can be devastating when things don't go according to plan. For Sarah and Bryan Baeumler, their renovation journey and experience filming the second season of their HGTV show, "Renovation Island," couldn't have been more different. Sarah told The List that she and her husband "never thought ... we would actually be filming" during the "crazy shutdown," but they were able to manage. Unfortunately, they did have to close the doors to their hotel just six weeks after its grand opening. 
"We had these goals that we hoped to reach, but as Bryan says, we really like everyone else in the world were going month to month saying, 'Okay, are we going to reopen now? Will travel open, will people get here?'" So what ended up happening for the Baeumlers? Well, Season 2 of "Renovation Island," according to Sarah, became more of a docu-series than anything else, as it documented their experience during the pandemic, more than the renovation and operation of their hotel. "We're very honest about where we are at the time with our family and the businesses," she told The List.
This is how Bryan and Sarah made the most out of a tricky pandemic situation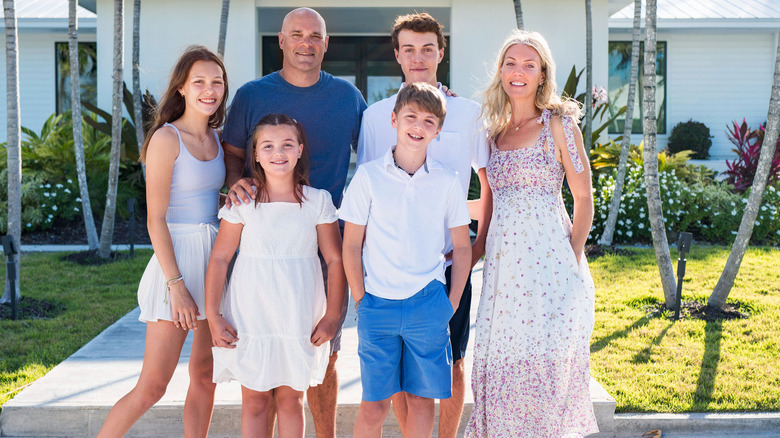 HGTV
It's safe to say that Bryan and Sarah Baeumler were not expecting a global pandemic to thwart their hotel plans, but once they realized that COVID-19 was here to stay for a decent amount of time, they switched into action mode and asked themselves what they needed to do to stay productive during the pandemic. "Bryan and I quickly realized, the first few weeks of COVID is one thing. And then we sort of reached a point where we looked at each other and said ...," Sarah started, with Bryan finishing her thought by adding, "We're in so deep, we might as well just keep digging." 
Sarah shared that every day, they got up every morning "with purpose," and figured out a way to stay busy. The Baeumlers ended up putting different projects together while everything was shut, not only to fill their time, but to stay "mentally focused" throughout the pandemic. And as Bryan shared, the "Renovation Island" crew quarantined, and then joined them at the hotel. "We were just a herd," Bryan said, and as far as Season 2 goes, the Baeumlers show "some of that COVID normal life experience and some of the let's get back to business experience."
Watch "Renovation Island" Sundays at 8 p.m. ET/PT on HGTV. New episodes are available to stream on discovery+.