The Best Sunglasses If You Have A Heart-Shaped Face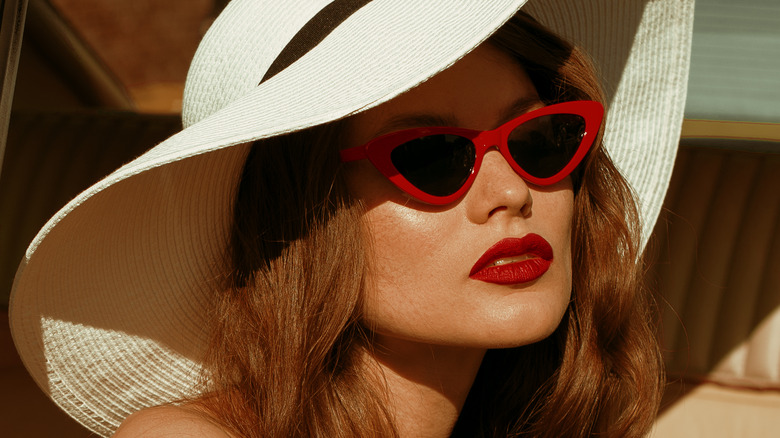 Shutterstock
Our face shapes dictate what types of looks we can and can't pull off. We consider it before making numerous aesthetic decisions, including hairstyles, makeup, and even accessories. Your face shape is determined by three criteria: face width, jawline shape, and face length (via Byrdie). If your chin is slightly pointed and your forehead or cheekbones appear to be the widest section of your face, congratulations! You have a heart-shaped face, and this article is for you.
First of all, you're in good company. A number of celebrities, such as Reese Witherspoon (along with her daughter), Sarah Hyland, and Chloë Grace Moretz, all have heart-shaped faces, and they know the right ways to emphasize it. When styling, hair professional Nate Rosenkranz suggests heart-shape-faced beauties attempt to "create width through the jawline with fullness and width through the nape to balance the shape of the face" (via Byrdie). He also warns to "avoid styles that accentuate the width of the forehead or cheekbones."
This advice extends to choosing the perfect pair of glasses or shades. Keep reading to discover the best sunglasses if you have a heart-shaped face.
Round or cat-eye frames complement a heart-shaped face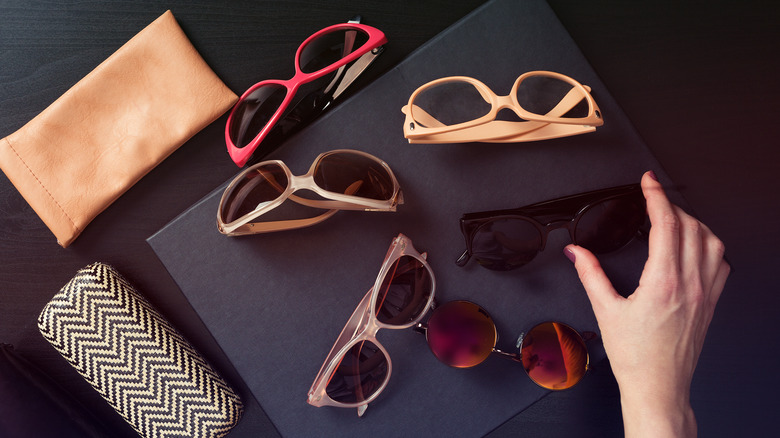 Shutterstock
Salt Optics eyewear brand designer, David Rose, recommends that people with heart-shaped faces look for "overly embellished glasses" with a cat-eye or round shape (via Oprah.com). These types of frames shift the eye downward and create the illusion of an elongated face (via Evo). To continue your balanced look, check out styles with shield, butterfly, rimless, or aviator frames.
Shield frames aren't just for sports! They cover the periphery of the eye, and their oversized quality provides extra protection from harmful UV rays. Style icon Jacqueline Kennedy Onassis was a huge fan of butterfly cat-eye sunglasses because they hide a large portion of the face — perfect for when you're a celeb in hiding (or just hungover at brunch). If you're used to rocking the vintage look, rimless or round frames won't disappoint. They originated in 1947 and were a signature look for celebrities like Jeff Goldblum and John Lennon. 
Finally, aviator frames got their name after being popularized by pilots. These shades usually offer clean lines, simple colors, metal frames, and teardrop-shaped lenses. Rose suggests heart-shape-faced consumers turn to brands like C. Wonder, Warby Parker, Bon Look, and Kamali Kulture to find the perfect pair.