The Surprising Place Sanjay Gupta Kept His Jeopardy! Clues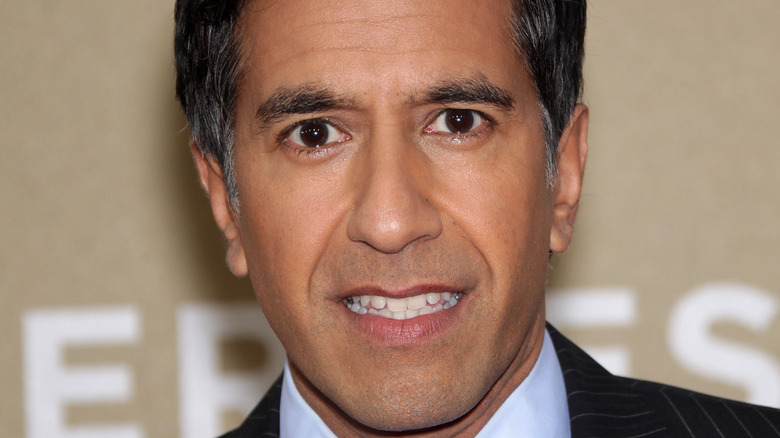 Shutterstock
It's CNN's Sanjay Gupta's turn to guest host "Jeopardy!" He follows other temporary clue stewards like Mayim Bialik and Katie Couric. As The Atlanta Journal Constitution reports, Gupta is the eleventh guest host who has taken the lectern since Alex Trebek died last November. It's been reported a permanent host will be chosen this summer. Until then, it's up to temporary quiz masters like Gupta to keep the show going, with the neurosurgeon noting the opportunity was the "honor of a lifetime" in an essay for CNN.
Of course, part of that honor is doing the job right, with the chief medical correspondent writing in his CNN piece, "The Gupta household was one always filled with facts, data and evidence. We cherished them and truly celebrated knowledge." Clearly, he would be taking his role as guest host very seriously!
One important aspect is keeping the clues safe apparently. Who knew? And you'll never guess where Gupta had to hide the clues for his episodes.
Sanjay Gupta shares fascinating insights about the iconic game show
Gupta revealed several secrets from "Jeopardy!" including that he was forbidden from asking contestants for their "answer." Instead, he was commanded to say "response" (via CNN).
The CNN personality also shared that upon coming up with the clues for each game — a process that involved an entire team holed up in a room together — he had to guard the clues like state secrets. "I wasn't supposed to share the clues with anyone, obviously, not even my spouse," Gupta noted.
And when he left for the night, the clues went with Gupta. So, where did he keep the clues so that no one could find them — not even his wife? As he revealed, they went "in the hotel safe whenever I left the room" (via EW).
This wasn't the only safeguard in place, with Gupta also revealing, "While I was given multiple show scripts, I wasn't told the order we would tape them until just before filming began. And, even after that, the order could be changed again to ensure no one had advance notice of the clues."