Eva Mendes Reveals Who Really Takes Her Instagram Pics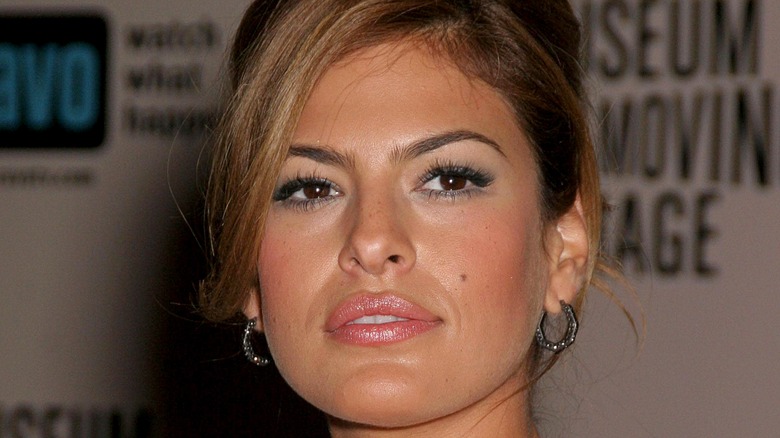 Shutterstock
Eva Mendes and Ryan Gosling have one of the sweetest love stories in Hollywood. The pair met on the set of their hit film "The Place Beyond the Pines" in 2011 (via Insider). The co-stars' on-screen romance blossomed into a real-life connection, now a decade long. Though the pair are notoriously private about their relationship, they couldn't hide the birth of their first daughter together, Esmeralda Amada, in 2014. Two years later, the couple welcomed their second daughter, Amada Lee, and in 2019 they adopted a puppy.
Over the years, Gosling and Mendes have rarely spoken about their relationship with the media and refrain from showcasing details of their personal life on social media. In the comments section of one of her Instagram posts, Mendes wrote, "I have always had a clear boundary when it comes to my man and my kids. I'll talk about them of course, with limits, but I won't post pictures of our daily life." She recently took to the social media platform again to clarify how her husband factors into her feed (via E!).
Eva Mendes likes to keep her family life private
"Hitch" star Eva Mendes' Instagram feed is full of snaps of the actress for her 2.4 million followers to enjoy. One of her most recent Instagram pictures features the 47-year-old at a playground, wearing a purple patterned dress and sunglasses. The "park life" caption suggests Mendes was at the park with her two daughters, which left her fans wondering if Mendes' partner Ryan Gosling captured the photo. One person commented on a subsequent Instagram snap of Mendes from the same day: "How many of your photos are taken by Ryan?"
Mendes took to the comments section to reply. "None that I post. My friends take them and I take theirs. It's a girl thang:)." This is something a lot of women can relate to and makes perfect sense because Mendes likes to keep her family separate from her social media presence. Mendes never shares any photos of her children on Instagram and makes it a point to only post photos of Ryan that are already available to the public (via E!).