The Jane Fonda-Inspired Haircut That's On Trend For Summer 2021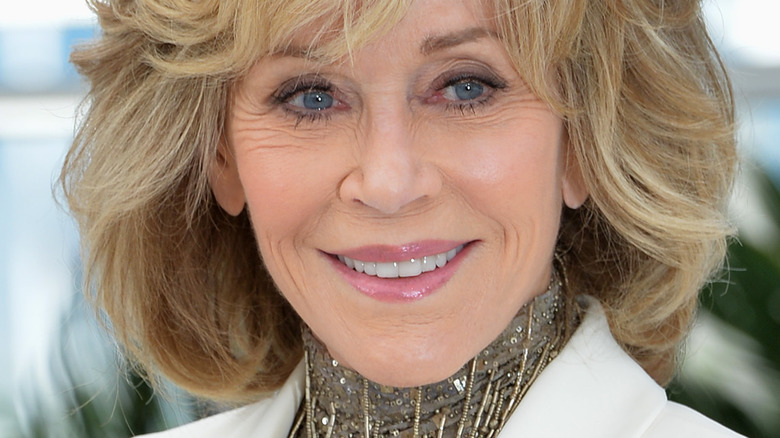 Shutterstock
What's old is new again with hairstyles just the same as in fashion. As the pandemic restrictions end around the United States and the world, many people who haven't had their hair cut professionally in a while are looking for something different. Although it's been around for a time, the shag haircut, made famous in the past by actor Jane Fonda, is back in style, and women returning to salons after a year or more are embracing the look, according to Byrdie.  
Dhiran Mistry, a dry cutting specialist at David Mallett New York, explained to the outlet why the cut roared back into style in 2021. As a result of quarantine, a lot of people have been coming in with very grown out hair with no shape as they hadn't had the chance to get a proper haircut (outdoor garden haircuts included). "I love all the movement and layers that you can add to a grown out haircut," Mistry told Byrdie. It seems that customers agree, with many taking it a step further with the wolf haircut, which combines the shag with another retro look, per Glamour.
Here's what makes this season's shag more modern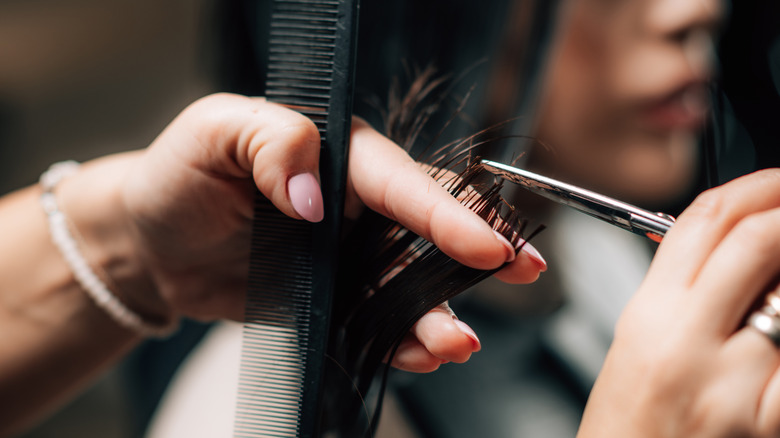 Shutterstock
For 2021, the wolf cut combines the shag and the mullet, creating a popular new layered look that keeps the length in the back, according to Glamour. This trendy hairstyle is a unique take on the shag that adds elements of the mullet style, too. Stars like Billie Eilish and Debbie Ryan embraced the updated shag trend, recently debuting stunning new locks on social media.
Ryan Trygstad, a celebrity stylist and co-founder of Mark Ryan Salon, told Byrdie why today's updated style is different from Jane Fonda's iconic shag. "What makes this feel modern is a bang. This is the modern version of Jane Fonda's Klute haircut. The whole top moves forward and is more fringey — there is no real part," he said. 
If you're looking for something different for your hair, you really can't go wrong with adding in some layers with an updated shag. If the bangs give you pause, be sure you fully consider it and discuss the whole thing with your stylist. You could always pair some curtain bangs with this haircut.