Here's Why You Should Think Twice About Bangs If You Have This Face Shape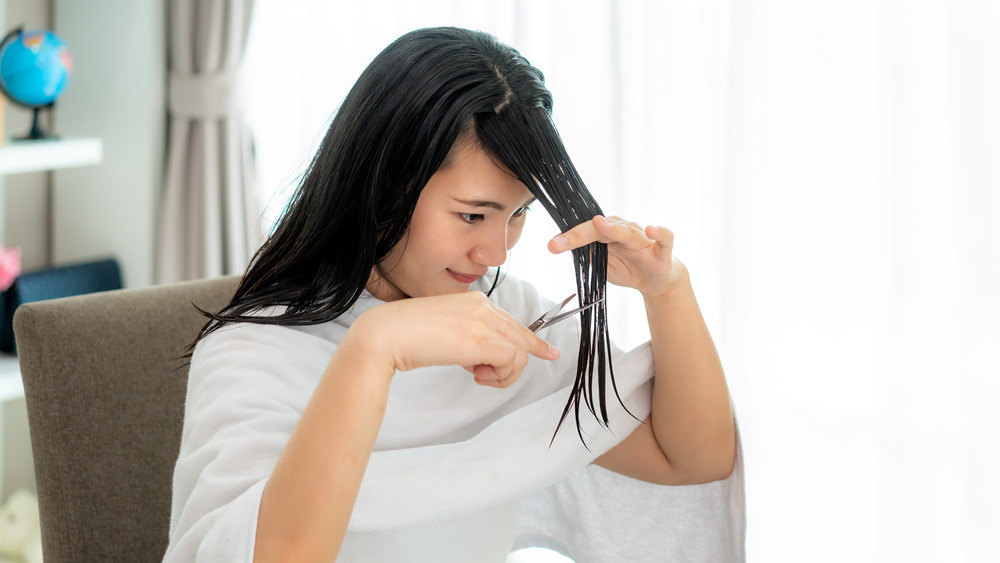 Shutterstock
To bang or not to bang? That is the question, especially if you've been looking for a hair change. Other than dying it a fun color or chopping off several inches, bangs are one of the more dramatic ways to give yourself a new look. There are tons of choices as well, like side bangs, straight-across, or this year's trend, the throwback curtain bangs (via The Oprah Magazine). However, if you have a certain face shape, bangs won't necessarily work for you. According to Best Life, bangs aren't a great choice for heart-shaped or square-shaped faces. 
If you're unsure what face shape you have, Allure says the first step is to look and see what the widest area of your face is. It could be your forehead, cheekbones, or jaw. You also must look at the length of your face as well. According to Total Beauty, face shapes that are longer than they are wide are oval, oblong, and rectangular face shapes. If your forehead and cheekbones are wider than your jaw, you might have a heart-shaped face. On the other hand, if your forehead and jaw are equal widths, you probably have a square shape.
If you must, there are some bangs that may work for these face shapes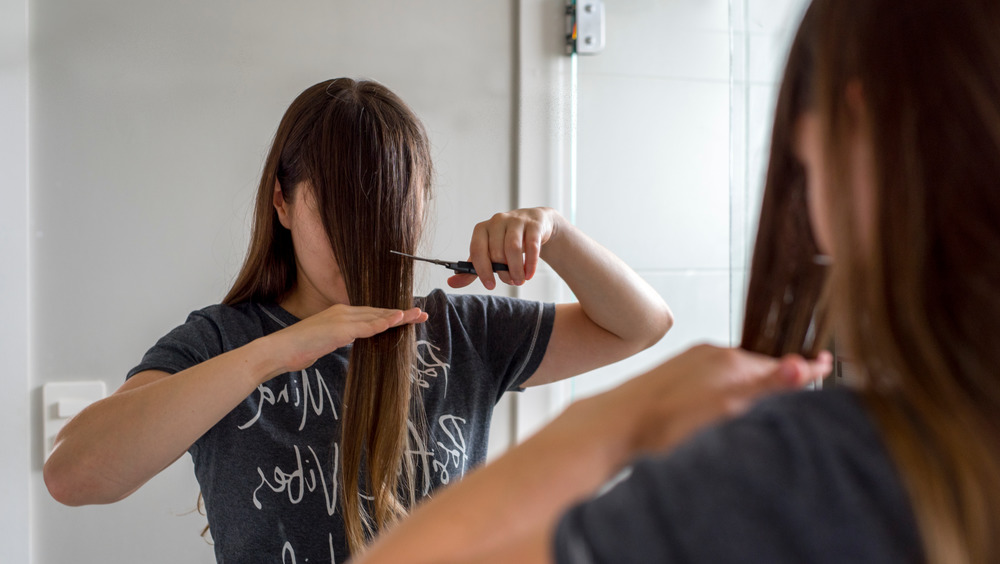 Shutterstock
Even though you may have one of the face shapes that aren't the best for bangs according to Best Life, there are still ways to get bangs if you're able to style them correctly. For instance, Glamour suggests that anyone with a heart-shaped face should get crescent bangs. They get the crescent name because they form a crescent shape with longer sides and a short middle. For a square face shape, try long and layered bangs. This style fringe will help to "soften and balance" your strong jawline, according to hairstylist Jon Reyman. 
That's of course if you're willing to gamble it all just for some bangs in the first place. If you're scared of the risk, there are safe ways to style your hair to give the illusion of bangs without ever cutting a single hair. For example, if you're dying to try out the trendy curtain bangs look, Glamour says you can use tools like a curling iron for straight and wavy hair, or a diffuser for curly hair to fake the look. That way, you can test to see if bangs are what you really want before making the big commitment. After all, hair may grow back, but it does take some time.